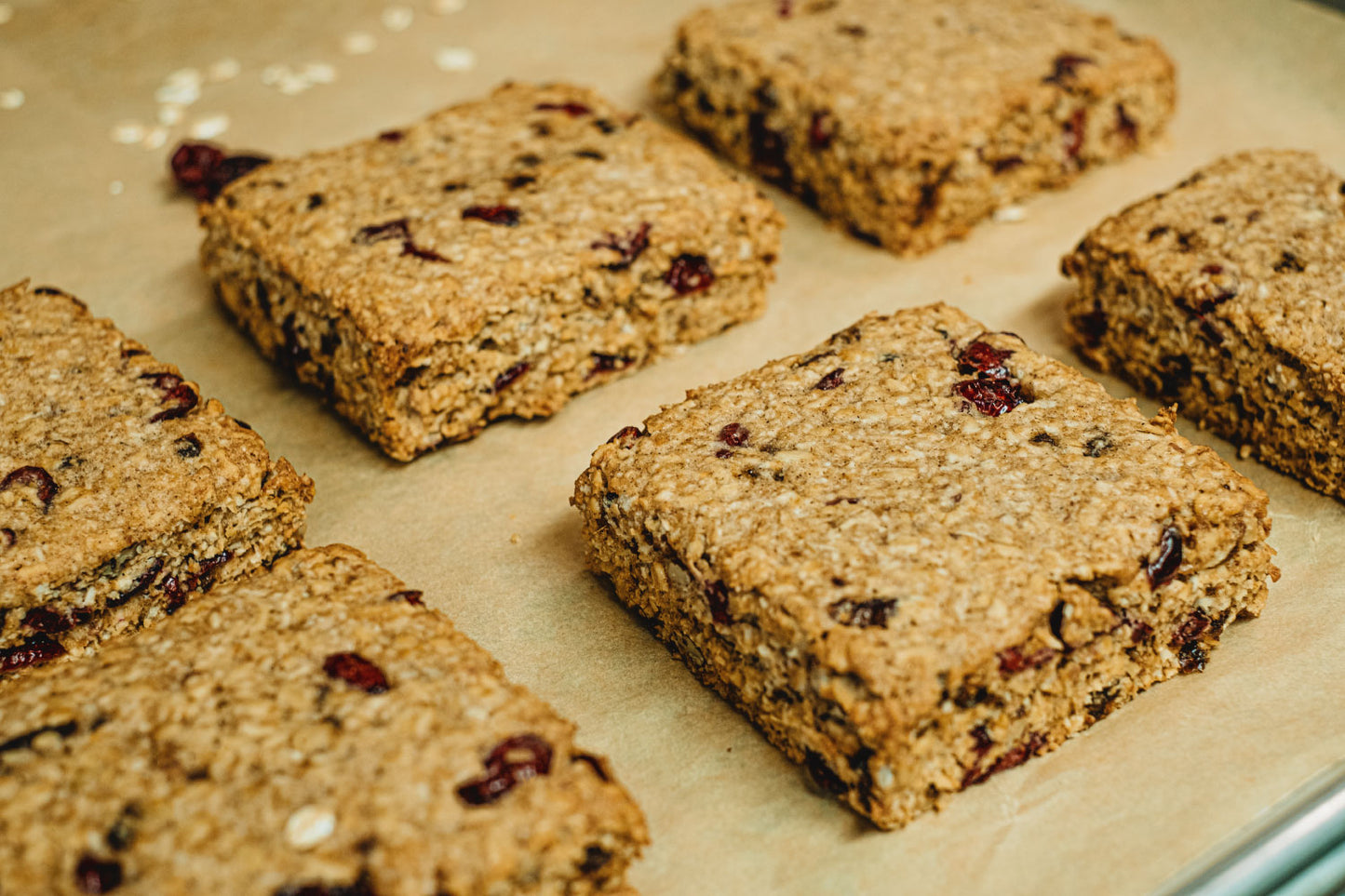 We have created a recipe that is so loved by our customers, it is often requested that we ship these confections nationwide. We know that for many of you, this lovely gluten free and vegan oatcake has found a warm place in your heart. After many requests, we are delighted to share with you the recipe that starts the nourishment of your morning routine. 
This oatcake or oat bar has been developed over the years at our Experience Center with a few different iterations . We have found that focusing on whole ingredients that cater to the dietary restrictions of people that are gluten free and vegan is a combination that is wholesome and, as many have exclaimed, you would never know it is gluten free! Following a gluten free diet does not have to be restrictive. We found through developing these types of recipes that eating gluten free can be so delicious! 
The first place to start is with the multipurpose gluten free flour. We use the Cup4Cup™ flour, originally developed by acclaimed chef, Thomas Keller. This flour was developed to be an impeccable substitute for regular all purpose wheat flour. Unlike some other gluten free flour, we found that this ingredient has a neutral flavor and does not impart that "gluten-free taste" that other brands of flour alternatives have. If you are an at-home baker looking to expand your pantry, this ingredient is a must. You can use this flour for other substitutions and solutions for your cupcakes, quick breads, pie crust, pastas, and more! As Thomas Keller said after the development of this flour, "Giving up gluten doesn't mean giving up the foods you have always loved."
Another great feature of this recipe is that it is sturdy enough to be flexible. If you find that you have walnuts in your pantry instead of pecans, use those! If you have dried cherries or raisins you can substitute those in place of the cranberries. Really, any dried fruit would be an alternative that you could use. It is important however, to use a dried fruit replacement as to not add additional water or moisture to the dough. 
When making this recipe in your home kitchen you want to be sure you have a stand mixer or electric beaters. This will help ensure the dough is fully incorporated after mixing. It is not recommended to mix this batch by hand, due to the warm water, oil, and agave mixture that will be streaming into the dry ingredients. The key to this is truly the mixing of the dough. Ensuring that all ingredients are evenly distributed throughout the dough will be the key to every bite being packed with flavor and spice. 
Another great thing to keep in mind is that this dough freezes extremely well prior to baking. You can always make a double batch, keeping the dough pre-rolled on a sheet pan in your freezer to bake off on a lazy Saturday morning. The aroma that will fill your kitchen with ease is one that will get you thinking about your morning brew.
We love to pair this oatcake with our Kona Estate Collection coffee. Our coffee is freshly roasted in our Honolulu Coffee Experience Center. We offer pure Kona coffee grown on our prized Kona Coffee farm, located on the beautiful slopes of the Mauna Loa volcano, on the Big Island of Hawaii. Our Kona Estate selection is hand-picked from the Honolulu Coffee farm. This coffee is a micro lot of the best coffee harvested this season. The unique flavors of lilikoi, dark chocolate and raw honey pair beautifully with this warm nourishing oatcake. 
We hope the lovely aromas of freshly brewed coffee paired with this delightful breakfast item fill your home kitchens with joy. Please feel free to share your photo creations and your favorite coffee pairing  with us.
Happy Baking and Brewing!
-
YOU MIGHT ALSO LIKE: