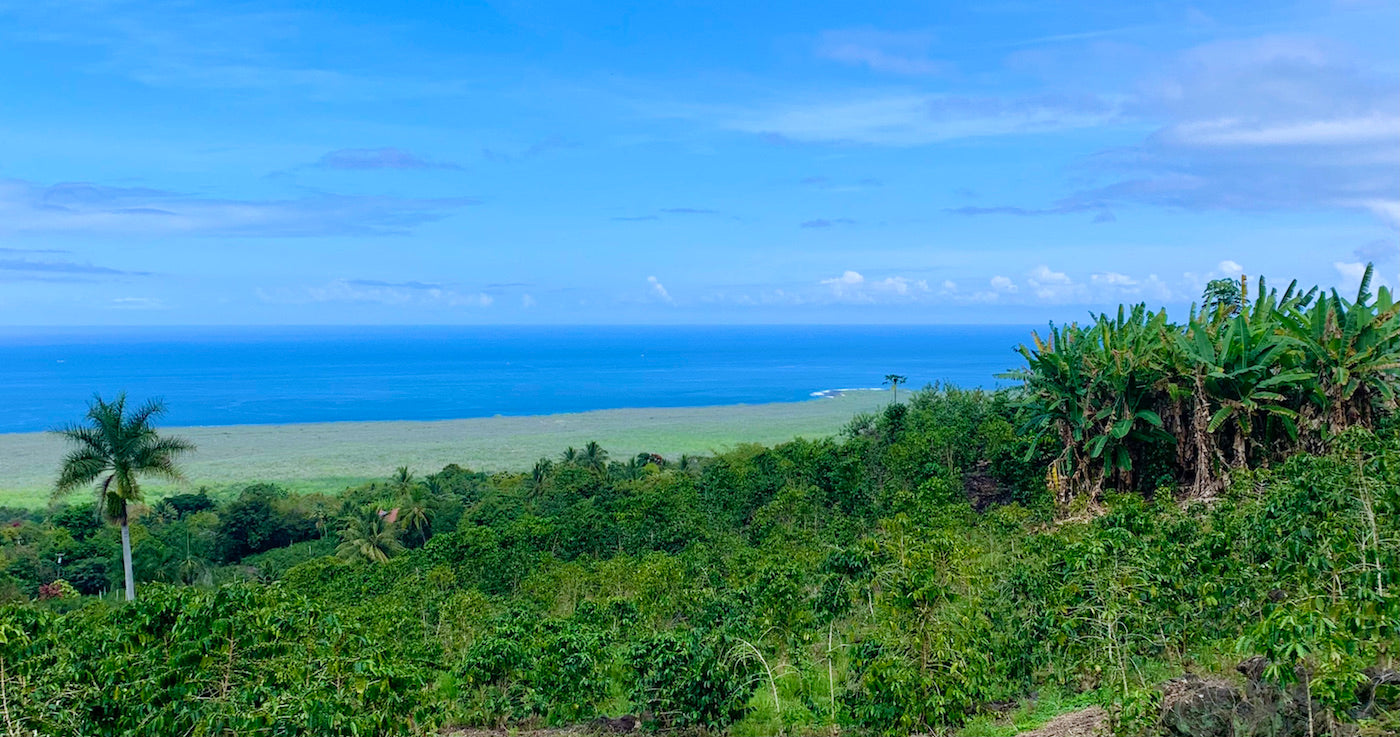 Kona coffee is a world-famous export from Hawaii, but like all coffees, has a unique history and defining characteristics. Every cup of Kona coffee you enjoy contains a story, and today we're digging into some of those details to tell you more about its past, present, and future.
So grab of cup of Kona and perhaps learn something new about this wonderful coffee!

Coffee growing in the slopes of the Mauna Loa volcano in Hawaii


1. Coffee is not native to Hawaii
A Brief History of Kona
By 1828, coffee had landed on the Big Island by way of Brazil and was first planted in the Hilo area. Later that year, Reverend Samuel Ruggles took some of those seedlings and planted the first ever coffee trees in the Kona region on the westward volcanic slopes of the Big Island. It was the coffee grown here in Kona that began to attract positive reviews, and thus Kona coffee was born.
In 1892, Kona coffee took a massive leap forward toward what we serve today, when Guatemalan coffee seeds were brought to Hawaii to help bolster the original Brazilian stock. The new varietal, Typica, was one of the old heirloom varieties originally brought to the Americas from Africa when coffee began to be cultivated around the world. Coffee tends to mutate and adapt to its climate wherever it is planted, and this Guatemalan Typica came to be widely grown in Kona and is now considered its own variety, called Kona Typica. 
Hawaiian geography and climate also play a significant role in the quality of Kona Coffee. Altitude is vital for quality coffee since the best coffees tend to grow in slightly cooler conditions. Compared to global coffee production, coffees in Hawaii are grown at a lower relative elevation. But because Hawaii is so much farther north of the equator than many other coffee regions, smaller changes in elevation have a larger impact on the coffee's quality by allowing access to cooler air and the necessary blend of sunlight and moisture.
The climate in Hawaii's Kona region, and the mineral-rich volcanic soils of Mauna Loa's steep slopes, ensure exceptional conditions for growing some of the world's best coffee.  
Read even more about this topic in our blog, "The History Of Kona Coffee Beans In Hawaii".


2. Kona coffee's legendary status is protected by law
Kona coffee is only grown in an area roughly 6 square miles on the Big Island, in the Kona districts, on the slopes of Hualalai and Mauna Loa, making it an exclusive, high end product--the perfect target, unfortunately, for food fraud.
Unfortunately, in the past, unscrupulous traders have been known to pass off other coffees as Kona coffee. In 2003, the State of Hawaii issued legislation to regulate the abuse of the Kona coffee name, and has more recently added even stricter standards on the use of Kona coffee in mixed-origin blends.
Today, those anti-fraud laws mandate that blends must be clearly labeled, with a minimum of 10% Kona coffee and the percentage clearly labeled, and that pure Kona be clearly labeled only as 100% Kona Coffee. We take great pride in continuing the tradition of growing this unique coffee on our farm in the Kona region.
3. Kona coffee isn't immune to the world-wide challenges of farming coffee
Today, many Hawaiian farms are exclusively planted with Kona Typica, to which many attribute Kona coffee's nuanced flavors. Our own farm is planted with about 90% Kona Typica, with the remaining 10% of the crop made up of Caturra and some yellow Typicas. 
In 2010, tiny borer beetles, pests that attacks coffee, were discovered in Hawaii. No one knows how they came to arrive in the islands, but due to the resulting smaller yields, the cost of Kona rose again.
This year's Kona harvest looks promising, and while the borer beetle threat has subsided, farming remains a challenge. As we reported last year, coffee leaf rust, a fungus that attacks the leaves of the plant, was just discovered in Maui for the first time ever in Hawaii. Coffee leaf rust has since spread to all the islands. We identified it on our farm, but we have managed it well and it will not be a factor in this year's harvest. We pruned heavily during the offseason, which helped to strengthen the trees and promote new growth this year.
Unfortunately, we have had a record amount of rainfall this year which could slightly affect yield. Most likely, the extra rain will lengthen our picking window, as the cherries will take a little longer to ripen at higher elevations and will need to be picked more gradually than usual.  


4. Kona coffee has its own grading system
Our Kona coffee is grown on the slopes of Mauna Loa where the plants receive plentiful rainfall and moderate temperatures, giving them their unique flavor. We then add our own personal touch during the roasting process, focusing on bringing out the inherent fruitiness in a coffee while showcasing its natural sweetness. 
Not all Kona coffee is created equal though, and you'll find different grades of Kona coffee in Honolulu. Grades are used to separate coffee by quality.
Kona coffee varieties include:
 

Extra Fancy (highest grade)

 

Fancy (high grade)

 

Kona #1 (mid-grade commonly used in restaurants)

 

Prime (lowest grade, but still better than most other coffees!)
These are all considered Type I coffees. That means they came from berries that had two half beans per coffee cherry/fruit.


Kona Peaberry Coffees 
You'll also find Kona Peaberry coffees, which are from Type II beans. Type II beans have one whole bean per cherry and are the rarest type of coffee bean. Peaberry Prime is the lowest Type II grade. Peaberry #1 is the highest of the Type II grades. Peaberry coffees are smooth and rich with a robust flavor. They are considered by some to be the best of the Kona coffees.
Learn more about Peaberry Kona in our blog, "Kona Peaberry Coffee: What Is It?"


LEARN MORE ABOUT KONA
We are here to spread the word about the wonders of Kona coffee. Follow along with us by joining our newsletter (sign up at the bottom of this page) or giving us a follow on Instagram to stay up to date on this quintessential Hawaiian crop! 
-