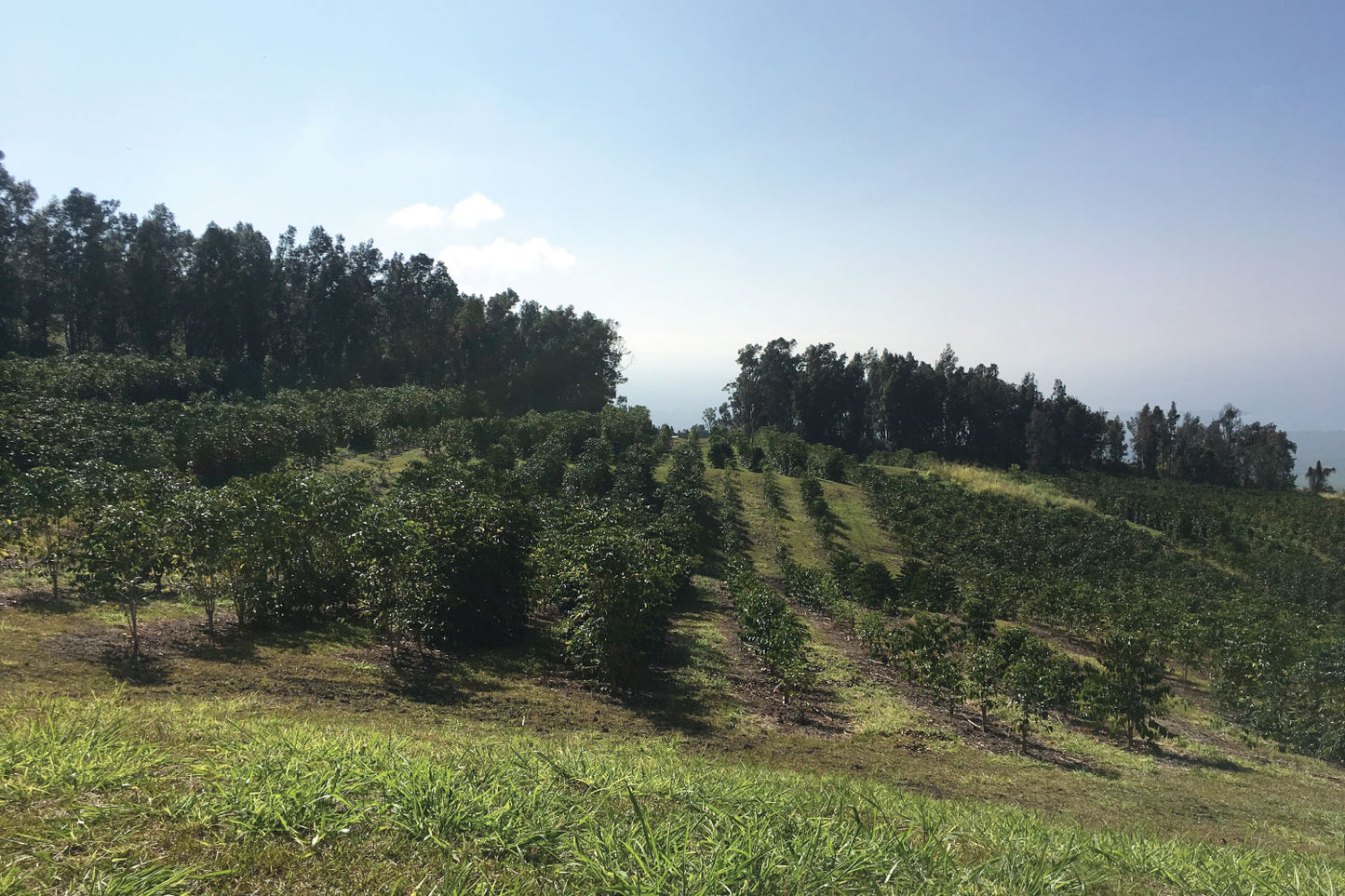 We would love to have you join us on each step of our Farm to Cup Kona coffee experience. While that might not be quite feasible, we would like to offer you this virtual journey. Enjoy!

Our Farm
Hawaiian-grown Kona coffee is among the world's best coffees, and for good reason. Our Kona beans grown on the green slopes of Mauna Loa thrive in the nutrient-rich volcanic soil and benefit from Hawai'i's tropical rain showers and natural
'Ōhi'a lehua
 forest shade. From our farm on the Big Island, fresh green Kona coffee beans are brought to our roaster at the
Experience Center
in Honolulu, where they are carefully and selectively roasted to bring you your favorite 100% Kona and 25% Kona-mixed blends.
Our Kona Coffee Trees

The journey of our Kona coffee begins with the transformation of rocky pasture land and grassy volcanic slopes into a coffee farm. Bordered by tracts of beautiful wilderness preserve made up primarily of native 'Ōhi'a lehua trees, several different varieties of Kona coffee trees are cultivated across nearly a hundred acres of farmland.
New coffee trees take three years to yield their first harvest. A single tree only produces a couple of pounds of coffee cherry, the deep red fruit whose double seed - or single, in the case of the unusual Peaberry! - will become the delicious coffee bean after green processing, milling, and roasting!
Our Kona Coffee Cherries

At our Kona farm on the Big Island, our skilled farmers will carefully select and hand-pick only the ripest, deep red cherries. The harvest fruit is then transferred to a wet mill. Here, defective beans are first sorted out, and then all the good cherry fruit is "pulped" off of the seeds. 
Processing Our Kona Coffee

The beans are now sun dried carefully over 9 to 12 days. They are raked and turned over constantly to ensure even drying for quality and flavor, and moisture content is carefully monitored. Once dried, the Kona coffee beans are aged for 2 months. Then it's on to the dry mill, where the outer layer of each bean, a paper-like husk called "parchment", is removed. This process also sorts the beans again to eliminate any broken or defective beans; this is done by sorting by density, ensuring the final product is uniform, healthy, and packed with all of the unique Kona flavors for a clean, sweet, and well-balanced cup. 
Freshly Roasting at our Experience Center

The processed green coffee is now brought to our roasters at the Experience Center, where they are roasted to exacting specifications on classic, cast iron roasting equipment to bring out the natural, sweet, fruity flavors inherent to excellent Kona coffee. Freshly roasted coffee is then packaged and shipped all over Hawai'i (and the world!). 
Brewing with Aloha

At all Honolulu Coffee cafes, skilled baristas masterfully brew the fresh Kona coffee for a Hawai'i coffee experience you won't soon forget. Pour overs, drip, and espresso drinks bring the beauty and special quality of Hawaiian Kona from our farm on the Mauna Loa volcano straight to your cup - a coffee journey you need to experience.