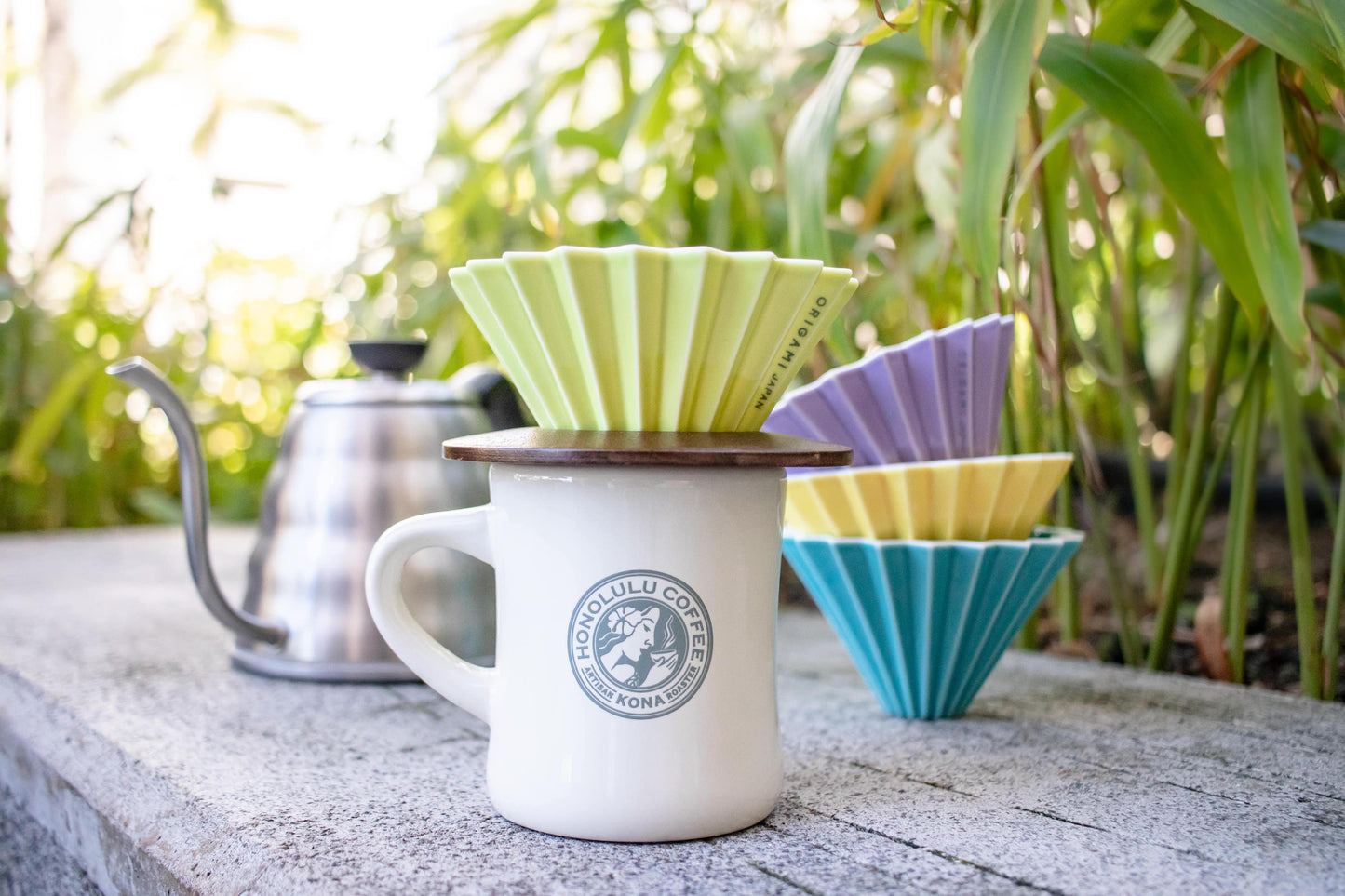 A Timeless Ceramic Brewer
Crafted from minoware clay, the Origami Dripper is like a time-traveling coffee companion, boasting a legacy dating back 400 years Japan's Gifu region. This area is renowned for its exquisite washi paper and stunning pottery, making it a treasure trove of artistic heritage. 
Minoware is a ceramic-making technique that's been around for centuries, and believe it or not, there are only a handful of talented artisans left in Japan who still carry the torch for this ancient craft. When you decide to add an Origami Dripper to your coffee-making arsenal, you're not just brewing coffee, you're sipping on a cup of history and preserving a tradition that's as rich and timeless as your morning brew.
The Classic Pour Over
The Drip Filtration, or Pour Over method, is where hot water is sprayed or poured over ground coffee in a paper or, at times, a mesh filter. The hot water extracts the coffee grounds and drains through a filter which separates the ground coffee from the coffee beverage. 
This method has become a beloved brew method because of its sturdy and well-engineered design. There are multiple styles of this brewer, and the method will be the same regardless if you have a metal or ceramic brewer. the design of this brewer helps with even extraction and it can rest on top of your favorite coffee mug, perfect to brew one brew at a time.
What you'll need:
Origami Dripper brewer and holder 
Paper filter (Today we used the Kalita Wave 185 filter)
Grinder
24 grams of coffee beans
Hot water
Decanter
Scale
Time
Your favorite mug
Directions:
1. Weigh out 24 grams of coffee beans and grind them on a medium-fine setting.
2. Place a paper filter in the Origami Dripper and on the holder and decanter/mug. Rinse thoroughly with hot water to clean and preheat for brewing.
3. Dump out the water, place the Origami Dripper, holder, and decanter/mug on a scale, then tare.
4. Add in the ground coffee grinds. Level out the grinds for an even distribution by shaking lightly. This ensures that we can evenly saturate all coffee grounds.
5. Start the blooming process by adding 48-72 grams of hot water in a circular motion and wait 45 seconds. Try to distribute the water evenly across the coffee bed.
6. Continue to add hot water in a circular motion until the scale reads 400 g. You should finish pouring when the timer reads 1:40-:1:50.
7. Allow the water to fully drain through. Your brew should finish between 2:30-3:00.
8. Remove the Origami Dripper and holder, decant, swirl, and serve.
Where You Can Get an Origami Dripper
Visit the Honolulu Coffee Experience (Available until supplies last!)
Address: 1800 Kalākaua Ave., Honolulu, HI 96815
Or visit the Origami Drippers website!