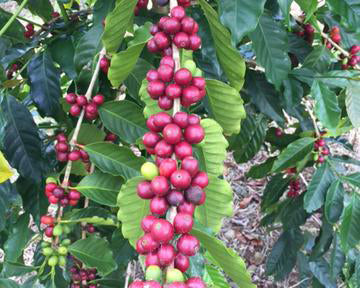 The farm is looking amazing. This can be attributed to the amount of rain we've received this year. Last year we received a total of 27 inches of rain, while this year we are at a whopping 56 inches and counting. We have the three near-miss hurricanes to thank for this, along with changes in El Niño patterns. 
As of yesterday, we've harvested a lot of cherry. We are continuing to harvest on the small farm, with a little more to go. The large farm has a good amount of cherry ready to harvest, which will start again on Saturday. We have a lot of green cherry maturing on the trees, which points to an extended harvest. Reviewing bean development, we estimate that we will still be harvesting some of this coffee into late February, giving us a 7-month harvest.
We will be milling our first lot later next week and are continuing to mill micro-lots. We've had some good cupping results from the initial lots and are super-excited to taste the higher-elevation coffees. I am really excited for the 2015-2016 harvest, as the current 2-year-old trees are looking really healthy and should be loaded with coffee by then. It's still too early to predict, but we could be harvesting a lot more green next year. 
Paul Massard, the Director of Supply Chain at Honolulu Coffee, is responsible for overseeing our coffee roasting, green coffee sourcing from Hawaii and around the world, as well as production and quality control.