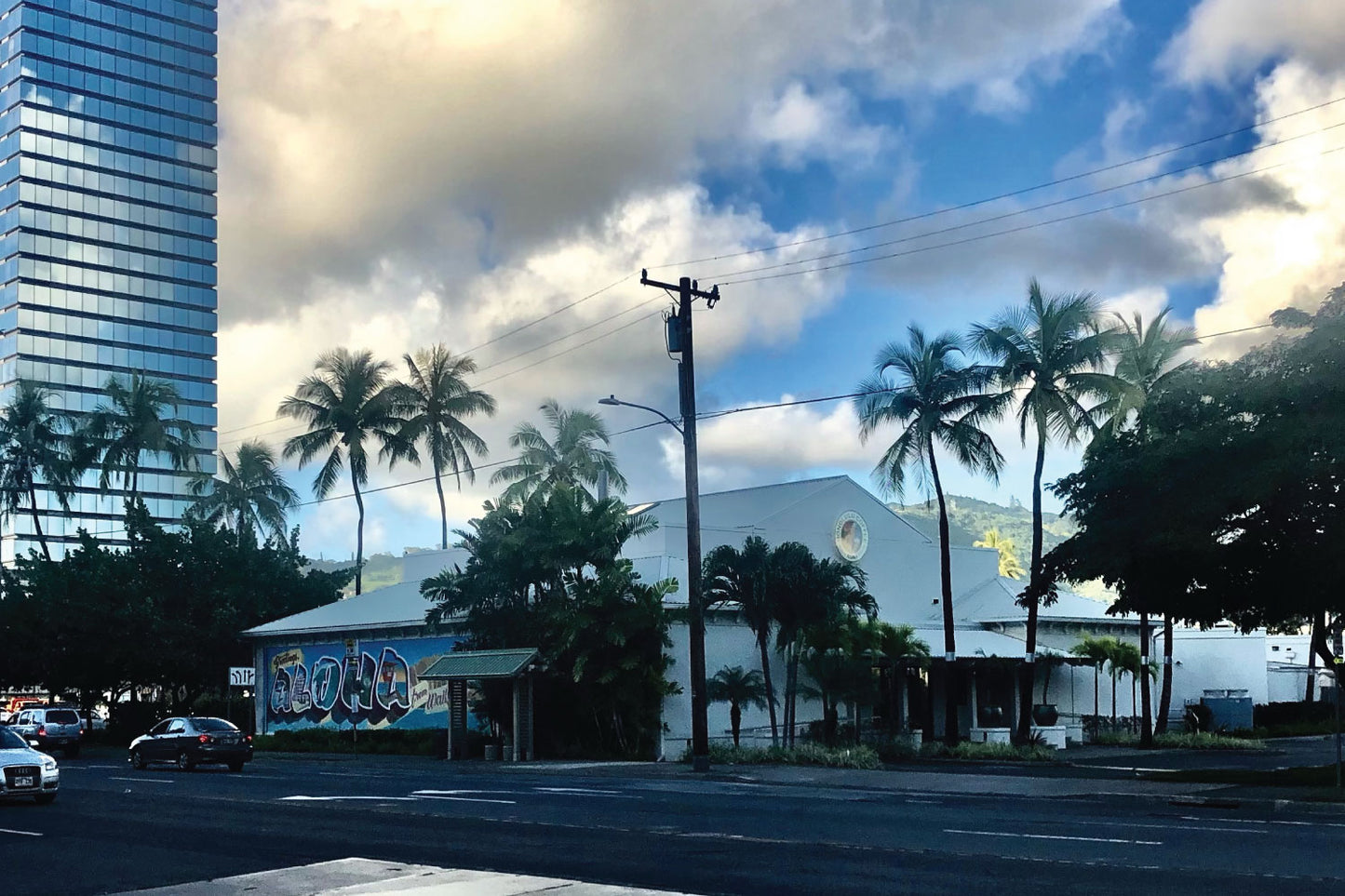 The Community Around the Experience Center
McCully-Mo'ili'ili, a neighborhood stretching roughly from McCully Street to Kapahulu Avenue, is a well known part of the island. Mo'ili'ili, once formerly known as Ka Mo'ili'ili, was part of the ahupua'a, or land division, of Mānoa and Waikiki. The area was flush with wet land, perfect for growing and developing taro. In 1870, when the Chinese and Japanese immigrated to the islands to work on plantations, they helped the Hawaiians to cultivate the land to grow not only taro, but lotus root and rice. Later in the 19th century, the area was owned by King Lunalilo, a prominent member in Hawaii's monarchy and it was home to Queen Kamamalu's summer cottages. As the area evolved, older generations can reminisce upon popular spots such as the old Honolulu Stadium, Kuhio Grill, and Chunky's Drive-In.
A mix of cultures and a deep appreciation of the land is what sets this community apart and we're glad to be a part of such a historic neighborhood. Along the corner of Kalakaua Avenue and Kapiolani Boulevard sits the Honolulu Coffee Experience Center — we'll kick off our relaxing day here!
The Honolulu Coffee Experience Center
In 2015 our flagship store was born from our greatest passion: to share the farm-to-cup experience. Standing at an expansive 9,000-square-feet, Honolulu Coffee's Experience Center is a hotspot for any coffee enthusiast. We have everything you need: from your morning coffee run to an in-depth tour of a coffee cherry's journey! Upon entering you are immediately greeted by the aroma of freshly roasted coffee from our iron-cast 1944 Probat UG22, where beans sourced from our farm on the Big Island are processed, quality controlled, and packaged onsite.
If you like what you smell, pick up a bag of our highest graded Kona Extra Fancy at the gift store! Dying to try a cup of our specialty coffee? Head over to our cafe, located just underneath our wall to wall windows that overlook our outdoor seating area. 
Experience Center Menu & Exploration
Whether you're with us for a quick caffeine fix or ready to stay awhile, our menu offers something for everyone. Our on-the-go guests will appreciate Honolulu Coffee's house made pastries as a quick morning snack. Pair your morning cup with our vanilla bean scone, made in collaboration with Laie Vanilla Company; this buttery, dense classic pairs well with any of our handcrafted drinks. Our dine-in guests will love our wide range of full plate options. Topped with maple haupia sauce, coconut flakes, and macadamia nuts, our homemade buttermilk banana pancakes are a classic breakfast hit for the whole family.
Looking for lunch? Kimchi Bacon Melt can't be beat. This loaded sourdough sandwich is grilled to crisp perfection and is packed with bacon, cheese, creamy avocado, a runny egg, and crunchy kimchi for a little kick. Above all else, we recommend our signature Hawaiian Latte! Velvety macadamia nut and creamy coconut syrups combine to make a rich and sweet drink, available as a Kona Frost and iced or hot lattes. 
Get that order in and browse the space as you wait. Our gift shop is home to bags of freshly roasted coffee, ready for you to take home as well as some other local goodies! Honolulu Coffee is committed to sustainability, so we've teamed up with Kope Soap to create soap out of our coffee grounds. We love the scent, Mauka; notes of patchouli, orange peel, star anise, mandarin, and coriander leaves will leave your skin soft to the touch and smelling amazing. Along the walls, the story of Kona coffee is showcased through installations and murals. You can even peer into our Cupping Lab, where we conduct our coffee tastings and train our baristas. Across the way, say hello to our excellent bakery staff preparing all of your favorite pastries for the day. Once you're all set, feel free to choose whether to sit in or dine outside on our outdoor patio and fuel up for the day ahead.
Time to Explore!
For the best access to the island, it's recommended that you get a rental car. If you're not able to, Oahu's bus system has great coverage and frequent bus stops. For part of today's agenda, we're going to hop on the bus from the stop conveniently located right outside of our doors. You can take the number 4 bus heading for University & Mo'ili'ili and ride it for seven stops until you hit the corner of University Avenue and South King Street.
The Japanese Cultural Center
From there, it's only a four minute walk until you find the Japanese Cultural Center. Open from 9AM to 1PM, the historical center offers a variety of things, including Seikōan Tea House, an authentic Japanese tea house for tea ceremony practice. Our recommendation is to explore their permanent exhibit, Okage Sama De: I am what I am because of you, and learn about the history of Japanese immigration to Hawaii. You can spend hours amongst the enriching displays or even watching martial artists practice in their Kenshikan Dōjō!
Waiola's Shave Ice & Leonard's Bakery
Feeling peckish? You're in luck! Island favorites are scattered across the McCully area, ranging from hot to cold, and sweet to savory. On a sunny day, pick yourself up one of Hawaii's staple desserts: shave ice. (Yes, shave, not shaved ice). Waiola's Shave Ice, located on the corner of Waiola and Paani Street, is within walking distance from Hawaii's Old Stadium Park. Bring a picnic blanket and find yourself a shady tree to take in the Mānoa side of the mountain range. Our perfect shave ice order? A classic rainbow cone with ice cream at the bottom, condensed milk and li hing mui on top - a sweet, sour, fruity, and creamy blend all in one!
Not feeling cold? Hop back onto the bus and get in line for Hawaii's famous Leonard's Bakery, home of the best malasadas on the island since 1953. A malasada is the Portugese version of a doughnut, just without a hole! Balls of dough are fried until it's golden brown on the outside, but pull it apart to find fluffy goodness on the inside. If you're feeling adventurous, we recommend trying a malasada puff with guava filling. Not so adventurous? You can never go wrong with the classic sugar rolled malasada.
Because they are so beloved, Leonard's line for malasadas may seem like a feat, but we promise after your first bite you'll be running back to the queue for seconds (or thirds, we won't tell).
Wrapping Up the Day
As the day wraps up, take the time to walk along King Street and try to catch a glimpse of the rainbows above Mānoa valley that regularly appear. In the 50's and 60's, those who immigrated to Hawaii lined the streets with their own personal businesses and produce markets to help the area grow economically. In some ways, McCully-Mo'ili'ili has managed to maintain its unique identity. It continues to boast a number of local businesses from florists, a multitude of ethnic foods, imported goods, and of course, your favorite coffee shop.
Once you explore the area, you'll realize why McCully-Mo'ili'ili holds a special place in many of our hearts. Mahalo for spending the day with us — aloha, a hui hou!
-
READ NEXT:
THE PERFECT DAY AT WAIKIKI
Related Content: