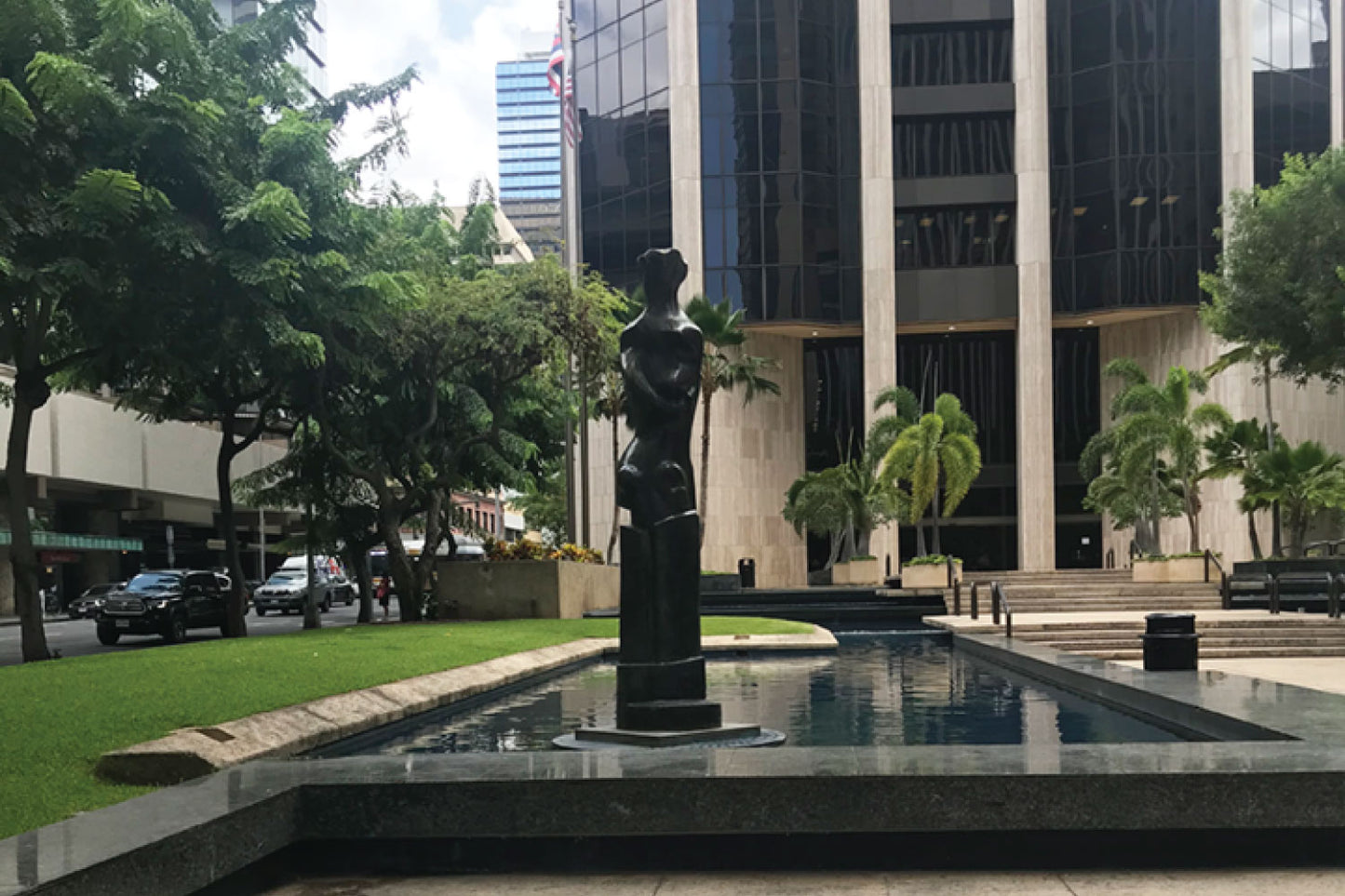 While we really wish you could be here to join us in person, we thought the next best way would be to write some blogs about our favorite things to do around our cafes. First stop: Bishop!
Did you know Honolulu Coffee started off as a kiosk in Downtown Honolulu in 1992? 28 years later, our downtown location offers the perfect start to a day that you can spend observing the astounding architecture that make up the business district of O'ahu. This architecture gives you a bit more information on the history and culture of Hawai'i. We'll show you some of our favorite places to go when we're spending the day in Downtown Honolulu to really immerse ourselves in Hawaiian & local history! We think things come better in pairs, so bring a friend or a date and hele mai!

Itinerary
Breakfast at Honolulu Coffee Bishop

Walk around downtown

Lunch at Storto's

Bishop Museum
Things to Bring
Walking Shoes

An appetite

An open mind to learn

A friend



Breakfast
While the business world in O'ahu wakes up early in the morning, our perfect day starts off just a little bit later. Head over to Honolulu Coffee - Bishop in Bishop Square; there is a variety of parking garages all around, but the best one is the garage on Alakea next to the Mandalay, or if you're down for the walk, free parking is available in Chinatown (and there's much to explore there).
Once at Honolulu Coffee, you'll be greeted with friendly smiles (behind a mask of course) and that classic jazzy café ambience. A barista's favorite way to start the day is with a hot oatmilk mocha paired with a warm ooey, gooey pain au chocolat. For a wholesome option to start off the day, we also suggest a hot Americano paired with our oatcake (made without gluten). 
Sightseeing
With a full tummy from good coffee and delicious pastries, it's time to do some exploring! Before you go anywhere, remember: always look up! Key places surrounding Bishop Square are: 'Iolani Palace, Hawai'i State Art Museum, the YWCA, Kawaiaha'o Church, and Ali'iolani Hale. These landmarks beautifully contrast the Hawaiian Renaissance architecture and the modern day skyscrapers. Each landmark carries stories from the history of Hawai'i. In front of Ali'iolani (the government center) stands a statue of King Kamehameha I, the first monarch of the Kingdom of Hawai'i who united all the islands.
Lunch Time
It's time to refuel, and downtown Honolulu offers a plethora of options for eatery. A local (and barista) favorite is visiting Storto's and enjoying one of their subs, wrapped in the infamous pink butcher paper. There is no outside seating for Storto's, but it is a quick walk back into Bishop Square where you can enjoy your lunch in the shade (and potentially come back for an iced Hawaiian latte from Honolulu Coffee!).
Bishop Museum
You may at some point wonder where some of these names originate from. "Why is this street called Bishop Street?" "Why is it called Bishop Square?" "What is Pauahi Tower?" Let's dive a little bit into that! 
Charles Reed Bishop was a businessman who was very involved in the politics of Hawai'i. Bishop was married to Princess Berenice Pauahi Paki, the great-granddaughter of King Kamehameha I. Princess Pauahi saw the decline of the Native Hawaiian people, and willed that her land and inheritance would be used to further educate Native Hawaiians through schooling and the museum. To fulfill her dying wish, Charles Reed Bishop used those lands and his own funds to establish the Bishop Museum and some of the Kamehameha Schools. 
We've had our morning breakfast, an awe-inspiring walk through downtown, and a Storto's lunch. After a very brief lesson on who Charles Reed Bishop and Princess Berenice Pauahi Paki is, we're prepared to take on the Bishop Museum. Be warned: there is much information at this museum, so to really soak it in, leave yourself as much of the designated ticket time as you can. For more information on reserving tickets, you can follow go here: reserve tickets to Bishop Museum.
Upon walking into the establishment, you are greeted by the workers in the gift shop, who check for your appointment/tickets. As you walk through the gift shop to get to the exhibits/halls, seeing the souvenirs builds the excitement for the history that you are about to take in. Exactly to the right of the gift shop after exiting is the planetarium. Currently, the planetarium is closed, but don't worry! The other exhibits are still open. 
As you walk down the path, you'll see a large grassy field to the left, and coming into sight on the right, the Hawaiian Romanesque architectural building that is the Hawai'i State Museum of Natural and Cultural History. Within this building are many halls that range from explaining the evolution of music in Hawaiian culture, the picture gallery that exhibits the fine art of Hawai'i, the Kāhili room which honors and displays the ali'i (chiefs/royalty) of Hawai'i and their Kāhili (feather standards). The Pacific Hall exhibits the journey to Hawai'i from the rest of the Oceanic islands, and the connection between Oceania and Hawai'i. 
The majority of this specific building is the Hawaiian Hall. This is separated into 3 levels, each representing a realm of Hawai'i, an essential and foundational concept of Hawaiian culture. The 1st floor depicts the Wao Akea- the Ocean Realm. In this realm it explains how everything originates from the ocean and informs heavily on the gods of Hawai'i. The 2nd floor depicts the Wao Kanaka- the Realm of Man. This realm shows the day to day caring of the land done by humans. Here, guests can partake in a few interactive things to give a better idea of what the people in ancient Hawai'i did. The 3rd floor depicts Wao Lani- the Realm of Gods. This realm informs the guests of all the past ali'i of Hawai'i, and the work they did during their reign. Within this hall, the bulk of the education of Hawaiian culture and history comes into play while honoring the past monarchs/ali'i of Hawai'i. 
Along with the Ka Hale Hō'ike'ike 'o Pīhopa (main museum), there is the Nā 'Ulu Kaiwi'ula Native Hawaiian Garden, the Science Adventure Center, and the Mai Kinohi Mai: Surfing in Hawai'i museum. These different museums help to round out all the components that make up Hawai'i's culture and history. 
Downtown Honolulu offers a lot of history and culture. There are small businesses all around with quality food and service that have been around for decades- perfect in this time when every little bit of supporting local helps in major ways. Starting the day with a perfectly calibrated espresso drink & pastry, seeing the sights downtown, having a quick stop for subs, and ending our day with all the information stored at Bishop Museum is our idea of a perfect day at Bishop!