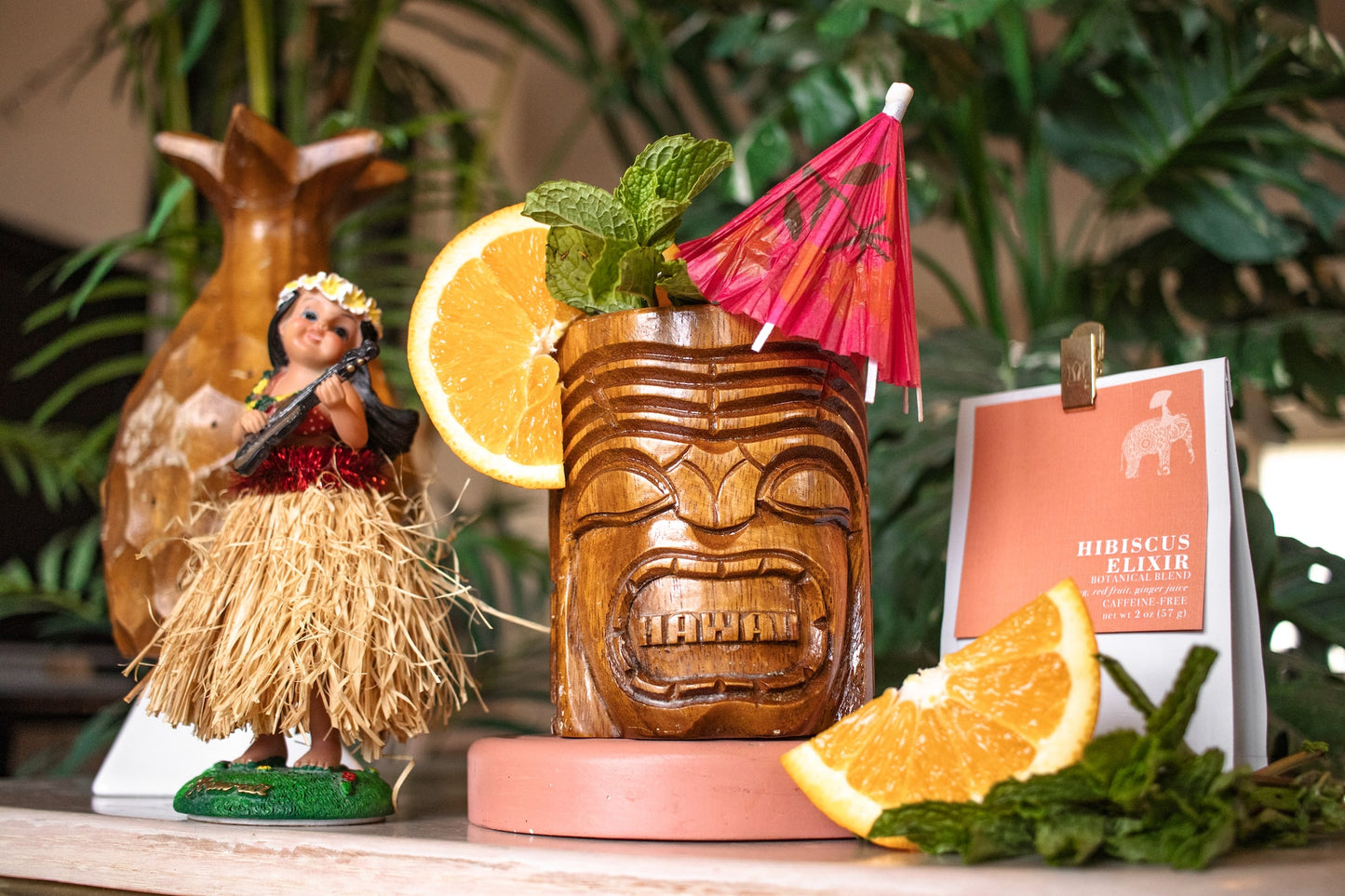 Tiki culture is much more than fun theme bars, tropical decorations, and fruity cocktails. Here at Honolulu Coffee, we continue to celebrate the rich cultural heritage of Hawai'i and the South Pacific. This Tiki Punch recipe aims to share in the aloha created through this heritage. 
MORE ABOUT TIKI
Let's take a journey back to Polynesian mythology, where tiki symbolized the first human being on Earth. In ancient Hawaiian culture, there was a symbiotic relationship between the gods, the 'aina (the land), and the kanaka (the people). If the people took care of the land to satisfy the gods, in return, the gods will provide for the people, through the land. In order to communicate with these gods, the alii nui (chiefs that were descended from the gods) used tiki to speak to — and provide offerings for — these gods.
The primary Hawaiian gods represented through tiki are as follows:
Ku - the god of war
Lono - the god of agriculture and peace time
Kane - the god of creation, sunlight, forests, and fresh water
Kanaloa - the god of the sea realm
THE ICONIC HARRY YEE
Photo courtesy of Honolulu Star Advertiser
In the 1930s, Hollywood movies and literature about the South Pacific further fueled the fascination with Polynesian culture. Tiki-themed restaurants, bars, and motels popped up across the country, and people even decorated their homes with tiki masks, bamboo, and other Polynesian-inspired decor.
Harry Yee, an American bartender from Honolulu, Hawaii, was known for spreading tiki culture with his classic Hawaii-themed drinks—creating a sense of locale to the tourist customers visiting the island and across the United States. Some of the popular drinks Yee has introduced include the Blue Hawaii, Banana Daiquiri, and Tapa Punch.
In honor of Harry Yee and his 30+ years of experience as head bartender at the iconic Hawaiian Village Hotel (now known as the Hilton Hawaiian Village Resort), we wanted to bring you back to the tiki-times.
Below, you can check out our twist on the classic Tiki Punch made with Firepot's Hibiscus Elixir Tea (if you're local you can also buy this in our cafes) and Ko Hana Rum.
We hope it'll take you to a place where you can sit back, relax, and get your dose of vitamin sea. Bon voyage!