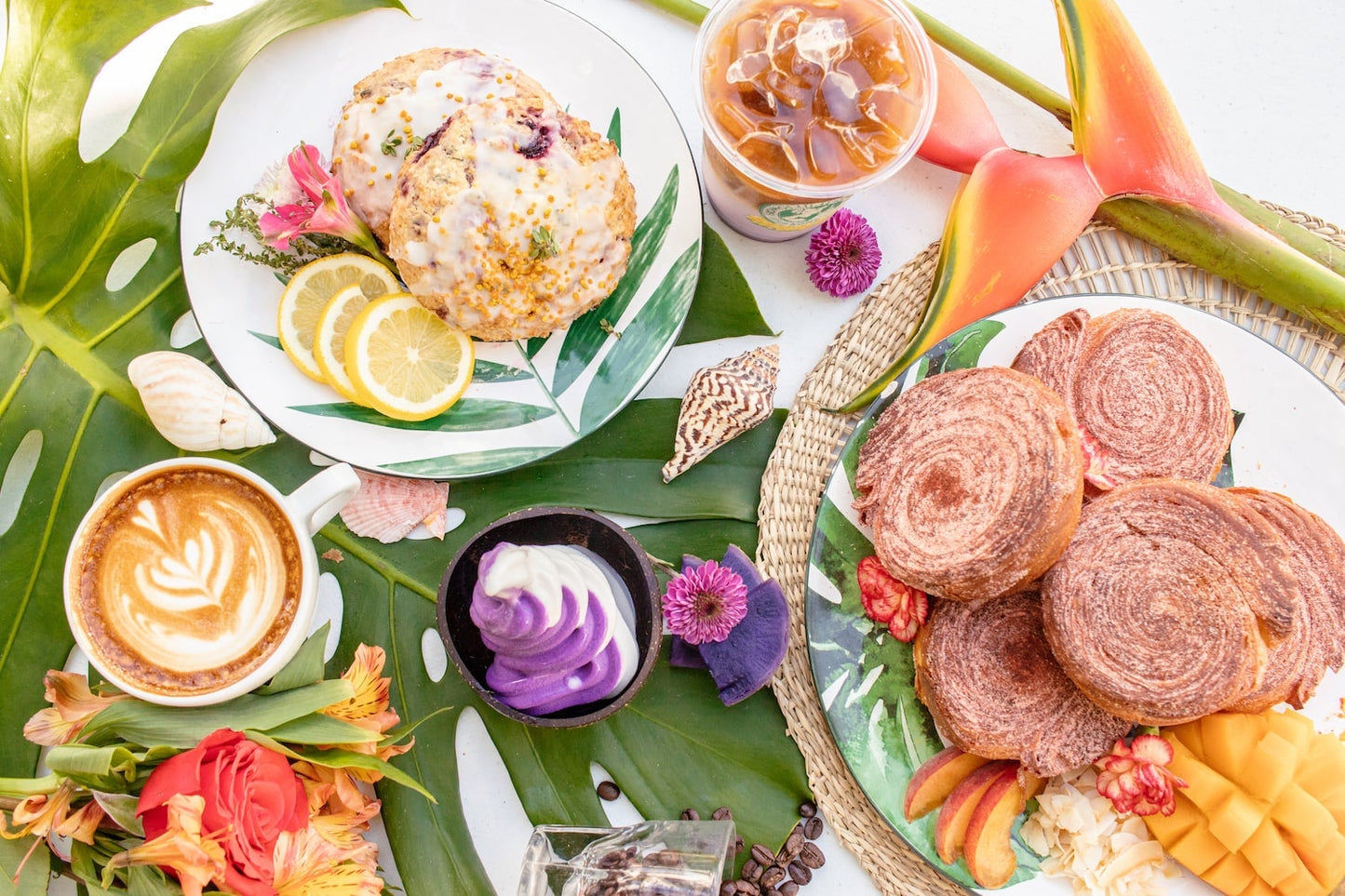 Summer is here! With that comes vibrant flavors that awaken our taste buds. This summer, we find ourselves so inspired by wonderfully sweet and tart summer fruits — the types of flavors that instantly transport us to family parties and summer nights at the beach with friends. These flavors truly are what Hawaiian Summer Dreams are made of.


Lavender Rose Latte


By popular demand, lavender is back! We decided this time to combine lavender with a delicate summer rose flavor. A summer breeze in every sip.
 
Iced Ube Latte
Ube is a one of a kind variety of purple yam, known for its vivid color and distinct nutty and vanilla-like flavor. It is very commonly used in desserts here in Hawai'i, so making a latte with it just made sense! 
Lemon Thyme Raspberry Scone


This scone is the perfect combination of sweet and tart. Each bite transports you to a summer garden, surrounded by citrus fruits, herbs, and berries. 
Li Hing Mango Morning Bun
Our beautifully laminated pastry dough is filled with a mango, peach, and yuzu haupia curd. That dough is then coated in a tangy and sweet Li Hing powder. Li Hing is a truly unique powder that is made from salted dried plums, making this morning bun absolutely burst with fruity flavors. 
Ube Soft Serve
As if our iced ube latte isn't enough, beat the heat with this cool, refreshing treat! This vegan-friendly soft serve has a coconut base swirled with that classic ube purple color. 
(This item is exclusive to our Experience Center location at 1800 Kalākaua Ave., Honolulu, HI 96815.)
 
Coconut Maka Butter
Supporting local businesses has never tasted so good! Our friends at Maka Butter use Big Island-grown macadamia nuts and blend them with cashews, coconut milk powder, local honey, and a pinch of Hawaiian sea salt. It's tropical nut butter perfection! Now available to purchase online or in-store.
LIKE WHAT YOU SEE?