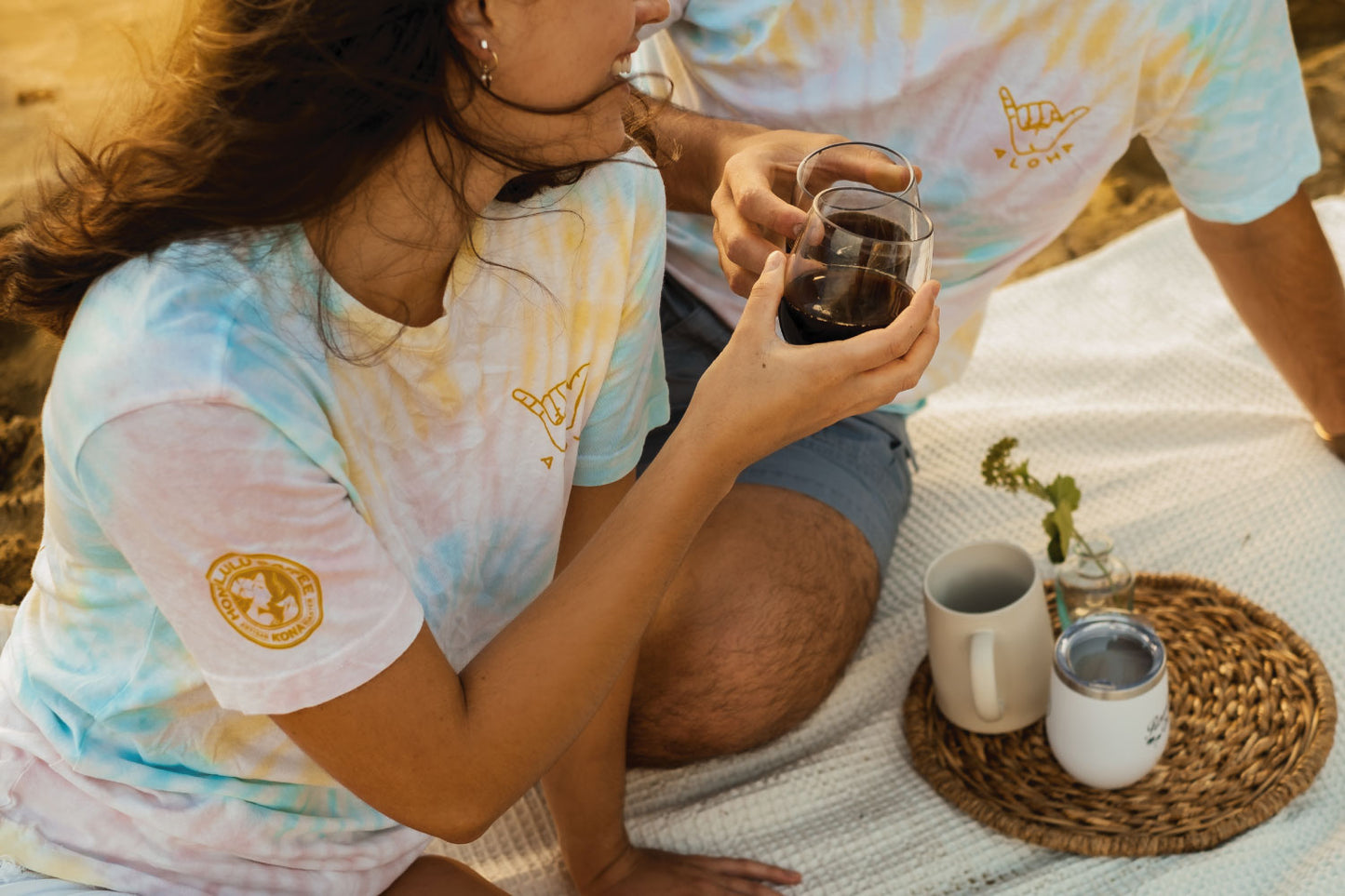 Aloha summer! To celebrate this new season (especially after a year like the last one), we thought we'd bring in some merchandise that highlights one thing we love about Hawaii: surfing.
From our new Cece Mug featuring a surfboard-inspired design to our long-sleeve farm tees, made of dry-fit material, our new merch is perfect for a day at the beach or a day in the water.
SURF'S UP SUMMER MERCHANDISE
Our tie-dye shirt is custom dyed and printed in California by our partners at Golden Goods. Since they are hand-dyed, each shirt will be unique. 
These gray dry fit long sleeve shirts are the same shirts that are worn by the hard working team members on our farm on the the big island of Hawaii. Featuring the logo of our farm on the back and "coffee farms" down the sleeves, this is a stylish, unique way to show the depth of your love for fresh grown Kona coffee. Since it is dry-fit too, it dries quickly, making it perfect for a day on the beach.
We updated our favorite Cece Mug with new colors and a new surf-inspired design. These mugs are perfect for the beach. They hold 12oz of coffee, water, or beer, and keep hot things hot and cold things cold.
Our vintage-inspired is screen printed on cut and sewn wool by our friends at Oxford Pennant. Brewed with Aloha!
SHOP BREWED WITH ALOHA VINTAGE PENNANT 
FRESH SUMMER DRINKS IN OUR CAFES
If you're lucky enough to be in Hawaii, come into our cafes and check out the merch in person! While you're there, you can try one of our new seasonal drinks.
Vanilla Bean Cream Soda
A refreshing and slightly sweet soda, we make our vanilla bean syrup in house and combine it with sparkling water and just a drop of cream.
Hibiscus Strawberry Coconut Milk Tea
Our house-made strawberry syrup is combined with Firepot's Hibiscus Ginger Iced Tea and coconut milk to create our island-inspired milk tea.
Coffee Soda
Maple Syrup, cold brew concentrate, and sparkling water combine to make an aloha cola.
Order online to skip the wait!
Mahalo!
-
READ NEXT
THE PERFECT DAY IN MAUI