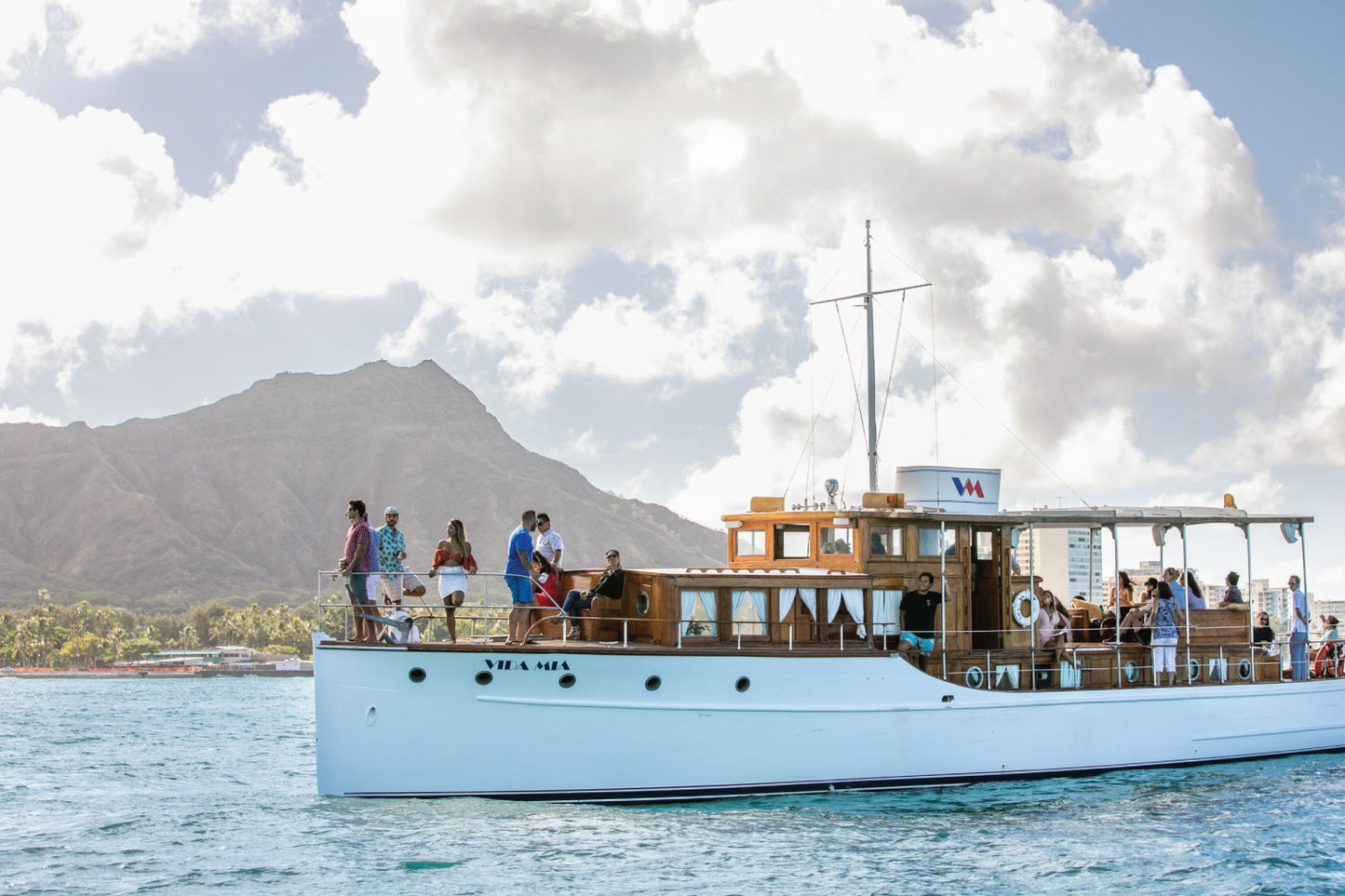 Every once in a while we are lucky enough to be offered an experience that takes our breath away — an experience so special that it pushes you out of your day to day life and into a state of wonder.
Last month, the Honolulu Coffee crew boarded the Vida Mia for one of those experiences and man, are we excited to share it with you. Through a new partnership between Honolulu Coffee and the Vida Mia, this fully restored 65 foot 1920's wooden yacht is now available for morning cruises along the Waikiki coastline.

We love finding moments to enjoy our favorite brew alongside the beauty and serenity of a blissful Hawaiian morning. We can't think of a better way to enjoy our coffee and fresh baked pasties than aboard Hawaii's favorite tropical cruiser.
BACKGROUND OF THE VIDA MIA
To fully appreciate the Vida Mia in all her current glory, one must appreciate how she got here. Translated from "My fondest life" in Spanish, the Vida Mia was originally commissioned at the end of the roaring 20s in Stockton, California and has had many lives in the century since. Though she was built to be a luxury commuter yacht, the Vida Mia was commandeered by the coast guard during World War II and spent two years patrolling the open waters near the Golden Gate Bridge for suspicious submarine activity. While she served, the entire vessel was painted grey and was outfitted with the most advanced sonar technology available at the time. To this day you can see the small etchings of a Coast Guard stamp in the pilot house. 
The Vida Mia made her journey to Hawaii in 1961 where she became the go-to charter for celebrities like Elizabeth Taylor who used the boat as her personal vessel every time she visited Hawaii. The original porcelain bathtub remains in the vessel and guests can often be found taking a ceremonial photo in the tub to honor her history.
The Vida Mia received one of its most lavish gifts in the 1980's from a group of diplomats. These influential guests were so impressed with their experience that they gifted the vessel with lavish customized china, monogramed with "VM." The gift served as the official china for dining service for many fine dining events. Many may remember the Vida Mia from her years in Maui hosting whale watching excursions and outer island tours. She was docked right on Front St. in Lahaina harbor and many locals have fond memories for her late-night music and festivities.

RESTORING THE VIDA MIA 
A boat with this much history is bound to have seen some darker days. The vessel has fallen into disrepair a few times. During one of her former restorations the original logbooks, fine china and celebrity memorabilia from guests over the years went tragically missing. It remains a mystery to this day. Wooden boats require an extra level of care and attention due to being constantly exposed to the harsh sun and saltwater of this tropical climate.
Enter Captain Steve. Captain Steve Martin is THE resident wooden boat restoration expert and has been hired many times by the Vida Mia's owners to assist in her constant repair needs. Without Steve's guidance, the Vida Mia may have met a fatal end as she was once weeks away from being chopped up for parts. Steve is a life-long captain and has an immense amount of love and passion for The Vida Mia. His skills and passion have brought him and his crew around the world to repair boats after hurricane destruction. With his guidance and craftsmanship, the Vida Mia has been massively restored multiple times into what you see today. Originally gas powered this vessel has also made a smooth transition to a safer diesel engine.
SAILING INTO THE FUTURE
The future of the Vida Mia is bright. With new owner, Brynn Rovito at the Helm, this beauty is charging forward with the spirit of aloha. Brynn's background as a former attorney on Capitol Hill has left her captivated by history and architecture, the same passions that drew her to the Vida Mia. The boat is currently available for business meetings, weddings, family outings, overnight stays, and of course morning coffee charters.
The Vida Mia has an undeniably positive energy. It seems to attract guests who are enthusiastic, joy-seeking, and ready to make connections with the crew and fellow passengers. The hard work and dedication of the Vida Mia crew is apparent as soon as you step aboard. Brynn's commitment to hospitality ensures that all guests feel like they are part of The Vida Mia's rich history.
BOOK YOUR VIDA MIA MORNINGS CRUISE
Vida Mia Morning tickets are available for adult bookings starting at $79/person or $59/person for Kama'āina and Military. Children cruise for $59 or $49 for Kama'āina keiki's.
Cruise this glorious historic vessel for an hour and a half to start your day while dining on the freshest roasted coffee in Waikiki paired with our world class pastries. We invite you to truly take in our coffee paired with the views of the iconic south shores of Waikiki.