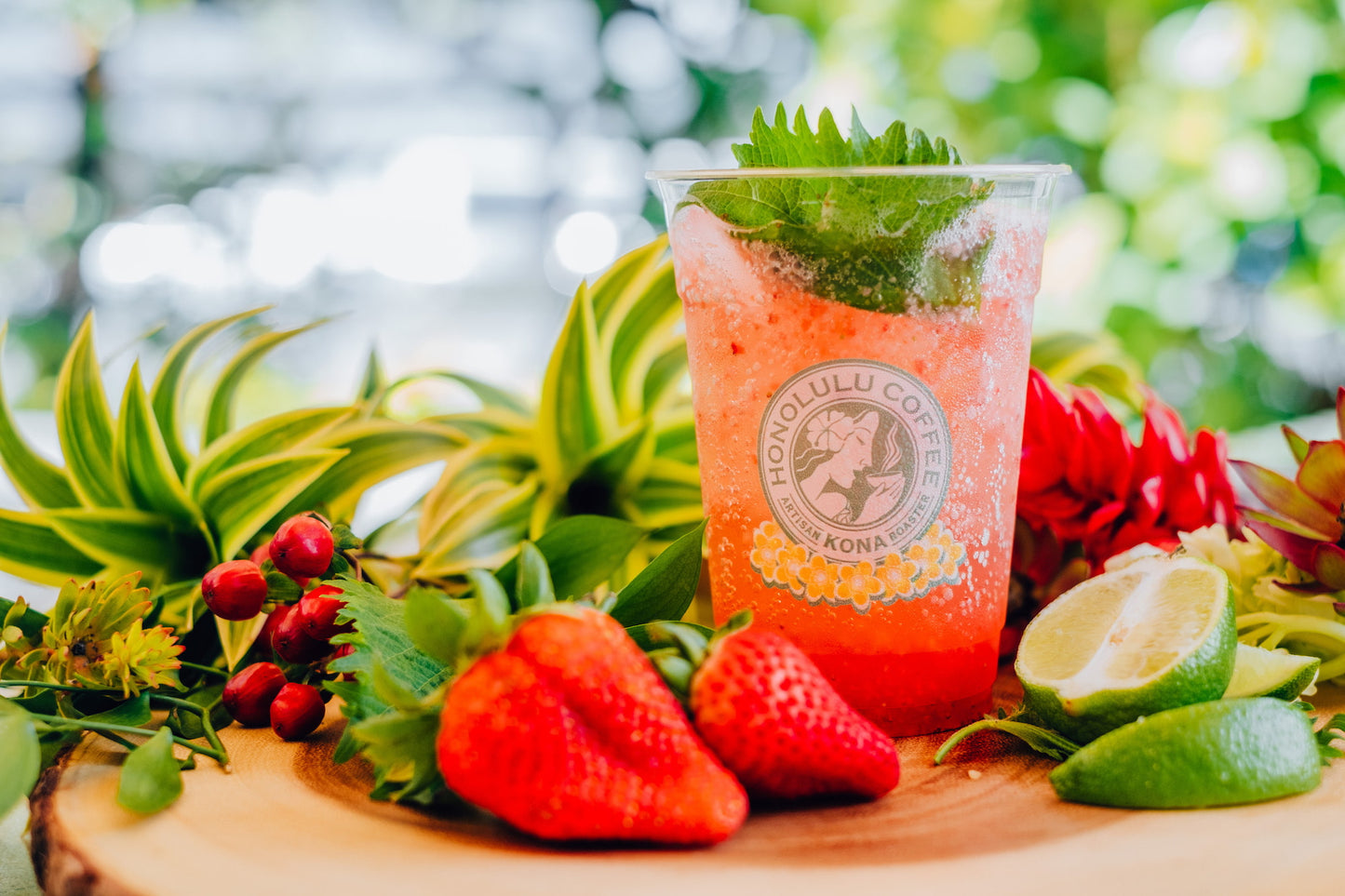 For our Surf's Up Summer product rollout, we wanted to celebrate our Hawai'i Nei for all of its beauty, vibrancy, and bursts of color! From the bright green of our Lavender Matcha, to the bubbly red of our Strawberry Spritzer, to the pops of deep blue in our Blueberry Cornmeal Scone, we invite you to feel the brightness and energy of the island through every sip and bite.
Strawberry Lime Spritzer

Strawberry puree, lime juice, and simple syrup topped with perrier and a shiso leaf garnish.

Lavender Cold Brew & Lavender Matcha

Our famous cold brew is paired with the floral notes of French lavender, and this matcha latte is slightly sweet with a hint of lavender for a cool taste of summer.

Peaches and Cream Smoothie

Peaches, coconut milk and agave nectar combine to create a smooth summer drink.
 
Blueberry Cornmeal Scone

Cornmeal scone with plump blueberries and crunchy sugar coating.

Banana Lilikoi Macadamia Nut Muffin

Gluten free banana lilikoi muffin speckled with macadamia nuts and a lilikoi glaze.

Mango Peach Pastry

Flaky HCC pastry filled with mango and peach pie filling and sprinkled with snow sugar.

Pina Colada Panna Cotta

Dairy free and gluten free coconut lime panna cotta topped with fresh local pineapple and toasted coconut chips.

BLT

Dairy free whole grain ciabatta filled with thick cut bacon, locally grown tomato slices, green leaf lettuce, and a black pepper basil mayo.

Chickpea Salad Sandwich

Gluten free and vegetarian sandwich featuring chickpeas, feta, cucumber, and red pepper tossed in a creamy lemon tahini topped with sunflower sprouts between sunflower seed bread.
-
READ NEXT:
SEA & SKY & SOIL: THE KONA COFFEE WAY

Related Content: