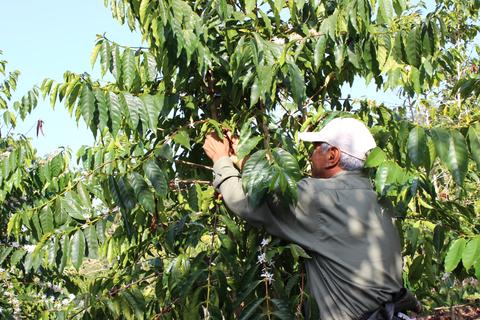 Kona coffee has become synonymous with Hawaii and with good reason: Hawaii is the only region in the United States capable of producing the Arabica beans that are used to make Kona coffee. Our Kona coffee farm provides afternoon cloud cover, nutrient-rich volcanic soil and tropical rains which makes this location an ideal place for our Kona coffee farm to produce and cultivate our highly sought after premium 100% Kona Coffee.
     While the Kona region plays a key role in harvesting Arabica beans, it is important to know that not all Kona coffee farms operate the same, or produce the same quality of beans on their properties. Understanding the process from our Kona coffee farm can help you understand the care high-quality standards we instill in our processing so that you may enjoy our 100% Kona coffee direct from our farm to your cup. Our Kona coffee farm understands that the growing process simply can't be rushed. Slow maturation of our coffee trees produces the optimal coffee cherries, which are handpicked, wet-processed and sun-dried.
     Once the ripe red cherries are harvested, our Kona coffee farm begins the process of transforming the picked "cherries" into our delicious 100% Kona Coffee. First, the outer hull of the cherry is removed. From there, the hulled cherries are consistently hand-raked over on a dry bed. Finally, the dry beans are roasted to perfection for a distinctive well-balanced coffee with notes of raw honey, milk chocolate and freshly roasted almonds. All it takes is just one sip to instantly give coffee drinkers from all over the world a true taste of paradise.