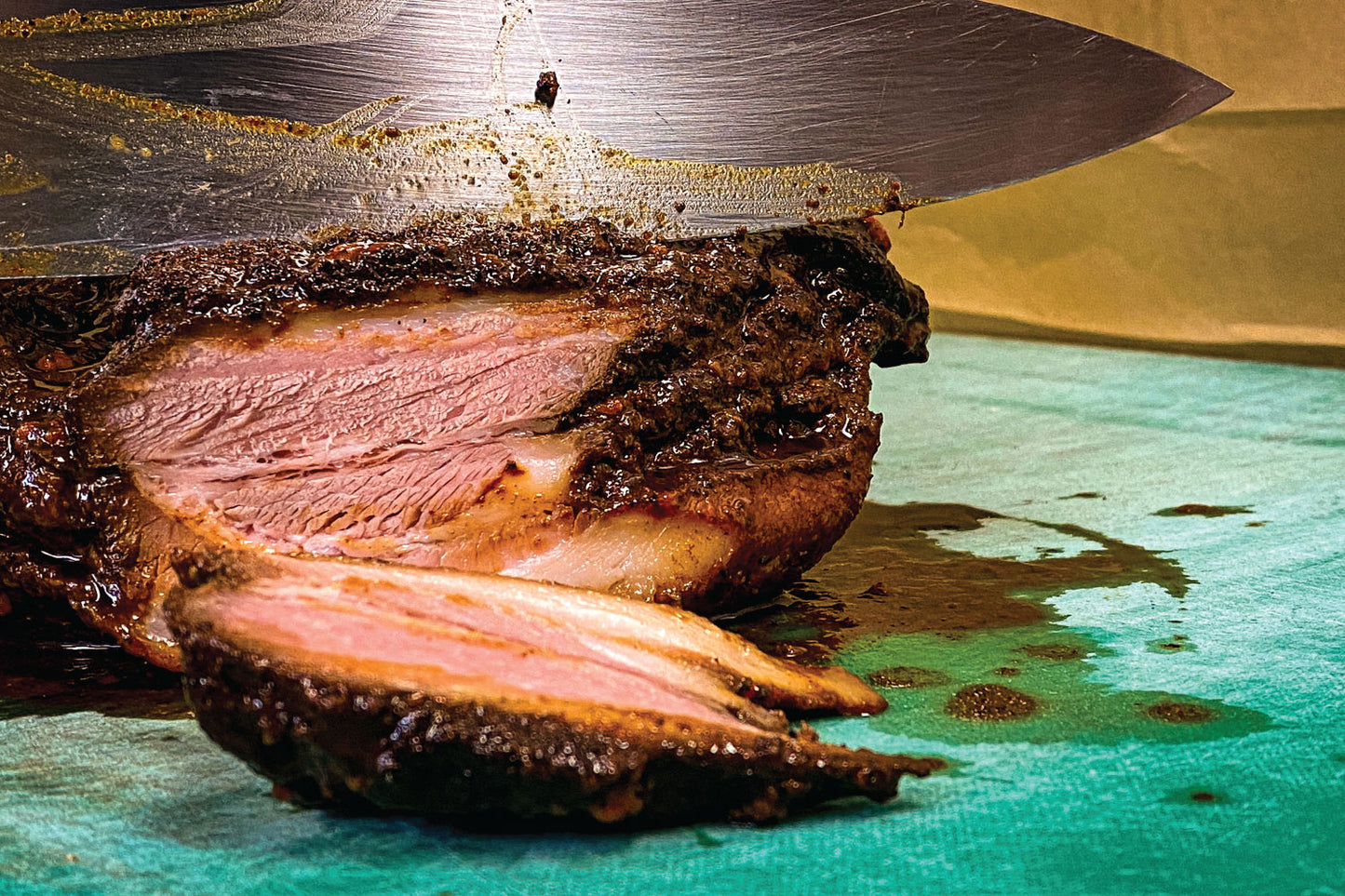 Come BBQ With Us!
As summer nears to an end, we wanted to celebrate by sharing our fan-favorite Kona BBQ Pork recipe. This is a recipe that is SURE to impress and make 'em all come back for more at your next backyard BBQ. We sell the Kona BBQ dry rub on our website (link) and in our local retail stores, but we have also included the ingredients below for you!  
There are many applications for our Kona BBQ dry rub. Most people are familiar with using it as a dry rub. A dry rub is just simply a mixture of herbs and spices that are rubbed onto the surface of the food, typically a meat, to add flavor. If used without a curing or braising liquid, the dry rub creates a nice crust if you are grilling or broiling your food. 
In our recipe for the shredded Kona BBQ Pork, we use the dry rub in combination with a wet cure to really lock in a deep rich flavor. The process of using a wet cure on the pork shoulder allows the meat to cure over the course of a week in the salted liquid mixture. Once it is fully cured, we use a braising cook method to slow cook the meat, being careful not to draw too much moisture out and ensuring that super delicate fork tender final product. Braising is a cooking method that helps to further develop flavor in a "slow and low" cooking method and is key for that ideal fork-tender, melt in your mouth total umami explosion.
Other Suggestions to use the Kona BBQ rub!
In addition to braising meat with our Kona BBQ rub, you can use it as a traditional dry rub by coating your favorite grilling veggies and skewering them on a kabob and throwing them on the grill. Lightly coat and toss the veggies or chicken before putting onto the skewers, then grill and enjoy that added smokey flavor. 
Still looking for some other options? The BBQ rub makes a great crust for fish! We like to add the rub into some panko to create a fully flavored seasoning and coat salmon, mahi mahi or Ahi with the panko and pan fry. The crust is outstanding with the soft tender cooked fish on the inside. You can also add shredded coconut to the panko and Kona BBQ rub and coat shrimp to make perfect Kona Coffee Toasted Coconut shrimp skewers. Feeling ready for a lunch item? Make yourself some chicken salad and add the dry rub to the mixture to make a Kona BBQ Chicken Salad sandwich on your favorite style bread. Pick up a freshly baked croissant, fill it with your chicken salad, lettuce, and tomato and make a perfect summer sandwich.
Honolulu Coffee Kona BBQ Rub- Ground Kona Coffee, salt, brown sugar, smoked paprika, black pepper, garlic powder, onion powder, ground cumin, pineapple juice powder, ground fennel, ground thyme, chipotle morita.
Honolulu Coffee Kona BBQ Pork Recipe
Wet Cure
½ cup Worcestershire

½ cup Soy Sauce

½ cup Molasses

½ cup Liquid Smoke

½ cup Brown Sugar, packed

1 T Kosher Salt

1 T Smoked Paprika

in

1 ½ cup Kona BBQ Rub

8 lbs Pork Shoulder
Braising Liquid
23 oz Pineapple Juice

46 oz Water

¾ cup Onion

½ cup Minced Ginger

½ cup Chopped Garlic

8 each, Ti Leaves
Instructions
Add all wet cure ingredients into a bowl and whisk to combine. Add the Kona BBQ Rub and whisk to combine, forming a thick paste. 

Pour the wet cure liquid all over the thawed pork shoulder. Massaging into the meat thoroughly. 

Place the cure-coated pork shoulder into a ziplock bag, being sure to transfer any excess liquid into the bag. Be sure to squeeze all of the air out of the ziplock bag before sealing. Let cure in the refrigerator for 4 -7 days.

Be sure to turn the meat once daily to ensure it is properly saturated with flavor.

After the meat is finished curing, reserve the cure liquid and take the meat out wrapping it in ti leaves.

Combine cure liquid and the additional braising ingredients and pour over the wrapped meat. Wrap fullin in tin foil. 

Place the meat into a roasting pan and roast at 225 degrees for 12- 16 hours. 

Once the meat is tender, remove from the braising liquid and let cool.

Once the meat has cooled, slice or shred into pieces.

Strain the remaining braising liquid left in the pan. Add 1 qt of this strained liquid back into the meat. Take the meat solids and onions from the strainer and add that back into the shredded pork mixture. Combine fully and enjoy!!
Tips & Tricks
During the curing process, be sure to store the pork in a large zip lock bag that can get as much air out as possible. Turn the meat over carefully at least once daily to ensure even curing. Salt level can be adjusted for personal preference. We like to braise in traditional ti leaves, but if you cannot find these in your market, you can use a substitute leaf, or just omit it altogether and use tin foil to seal in the flavors of the brine and braising liquid.
Aloha!