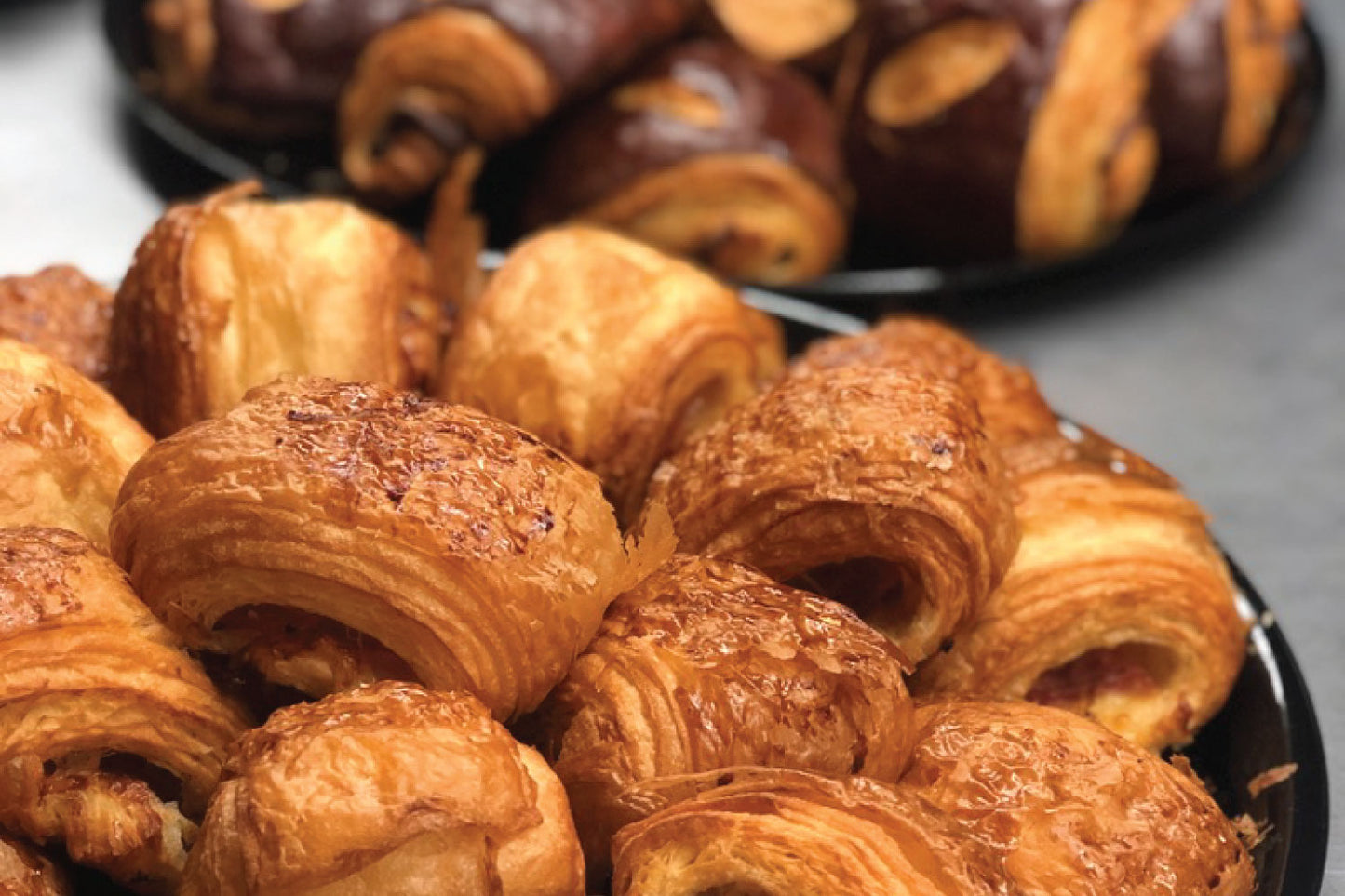 Interview with a Self Made Pastry Chef | Hillary Woodland 
Is there anything more classic than pairing a freshly roasted cup of coffee and a buttery flakey croissant fresh out of the oven? We think not! Finding a quiet moment in the morning to enjoy life's simple pleasures are the real highs that we are all searching for in life. 
You may know about our commitment to our farm to cup coffee roasting, but did you know that those same principles are the foundation of our production kitchen? We cook, make and bake everything in house daily. From our sweet rolls to our sourdough to our croissants, everything gets produced right at the heart of Honolulu Coffee, The Experience Center. 
Six months ago, Hillary Woodland joined the team at Honolulu Coffee and has helped to craft some delicious new menu items. Let's get to know Hillary, her background, and a little bit about how we produce some of our prized pastry items. 
Tell us a little bit about yourself and how you got started in the culinary industry.
Well! I would say that my culinary life started later than a lot of people. I was 25 years old, working in my first restaurant job, at an esteemed Sushi restaurant. I was working in front of the house as a manager but I became fascinated with watching the sushi chefs work and knew that all I really wanted was to be the one working with the food. Soon, there was an opportunity to do an apprenticeship position open in the kitchen, and I said "WOW this is my chance to do this". I already had a bachelors degree and was hesitant to take on more student loans so I jumped on the opportunity to learn some culinary skills without having to sign up for culinary school. I loved working with food, so I pushed myself to absorb all of the information I could get my hands on. From there I actually took on another full time baking apprenticeship at an artisan bread baking company. Because of this opportunity my love for sourdough is REAL!. I was working both jobs full time.. Oh! And on-top of that I was newly married. So, I had to cut down my 80 hour work weeks to 40 and I chose the baking apprenticeship to focus and hone my skills. 
Wow! Such a unique start to your culinary career, from sushi chef to bread baking, where did you go from there? 
From there I started doing catering for large parties, I was eventually hired as a private chef and once I landed in Hawaii with my family I had to really figure out how I wanted to use my passion for food and also continue to grow and learn. I worked at Magnolia Bakery and shortly thereafter, I opened my own bakery wholesale business, mostly providing pastries in Kaneohe. And six months ago, I FINALLY came onto the Honolulu Coffee team and I could not be happier about this working environment. I have a hunger to learn, even now there is so much untouched territory for me and I am so excited to grasp it. 
We are so glad to have to have you on the team. What do you think are some similarities of what skills you learned as a sushi chef comparatively now to baking and pastry? 
Across the board, and this may sound like common sense things but there are loads of similarities like paying attention to small fine details, caring deeply about the quality of your products, and where to source ingredients from. Caring enough to take the time that you need to learn and then continue improving on your process and efficiency as you move forward. Once you get there, you can add on how to ramp up production. Basically, attention to detail rules all in the kitchen. 
What is one item on our menu that would be the best description of who you are as a chef?
Desserts or Savory! My mind is always going towards desserts when I am trying to think creatively. Our Sweet Roll line is definitely my baby. I developed those recipes over a long period of time with my own catering business with a unique sourdough starter. I also love our Lychee Raspberry Danish. I love figuring out how to showcase bold and delicate flavors where they can work together and all flavors shine through. I think both of these items showcase how flavors can be balanced perfectly.
What is something that you feel you have learned while developing new recipes?
I always had this idea that chefs that went to culinary school just knew what they were doing and developed recipes and it was easy, just like that: one and done. Then, I finally realized that it's always a learning process, even those that are most experienced in recipe development. I am constantly pushing myself to learn through trial and error and personal education and culinary inspirations. I am not a perfectionist, but a realist with extremely high standards. If you are selling something to the public you better be sure that the quality is far above what anyone can just make at home. 
What skills do you use most as a chef and as a mom?
Ha! I need to apply more of my chef skills in my mommy world. I think when leading a kitchen you need to have patience and detail when expressing your expectations for your product. As a mom, sometimes I need to remember that patience that I have for my team. But, I love to share my passion for cooking with my children, they love to get involved in the kitchen when we cook at home. 
In your opinion, what is one of the hardest things to make in the home kitchen?
Croissants! Broken down into steps, croissant production is not terribly challenging but most people don't realize that it is a 3 day process to make just one croissant!
Ok, walk us through what the basic process of croissant making is. 
Day one, you want to make your dough and your butter block. These two doughs will be folded together on day two so you want to give the dough time to chill. I always let it sit for 24 hours. Day two is lamination day. Basically you are folding together the dough and the butter. Luckily we have a sheeter which helps us roll out the dough. We fold and sheet the dough out until there are actually 81 layers of dough and butter! That is what makes the light and fluffy texture on the interior of the croissant. Then, the dough has to rest for another 24 hours. Day three! It's time for cutting, shaping and proofing. We use the same dough and shape it in multiple ways to make our whole croissant line, from our classic Plain Croissants to Chocolate, Ham and Cheese, Everything, Lychee Raspberry and of course, everyone's favorite… The Almond Croissant.
Thanks Hillary! We loved getting to know your layers as well as we know our croissants'.
Check out this video of the lamination process for our Chocolate Croissants: