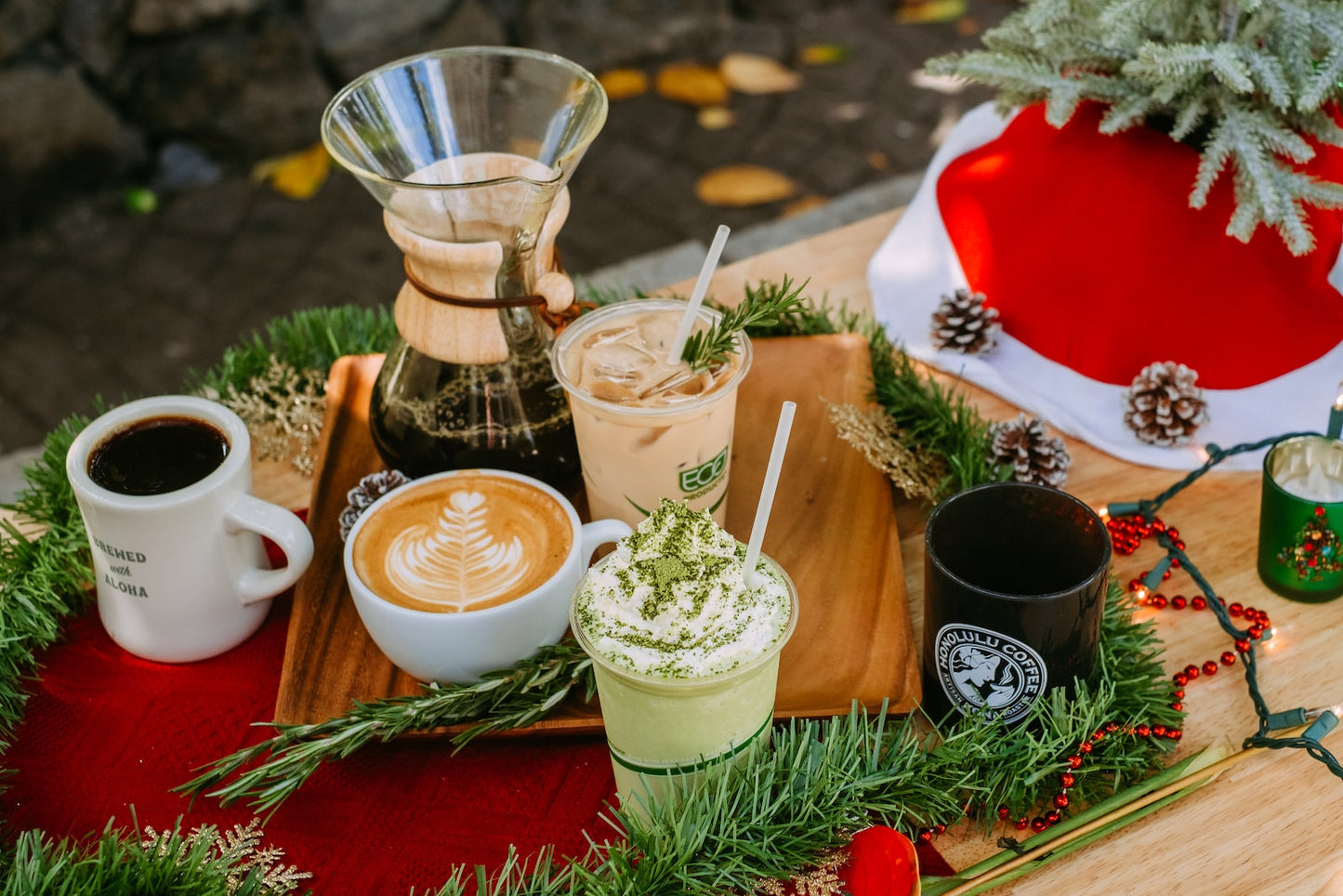 Our favorite part of the holiday season is the way it brings people together. We've put together a lovely assortment of drinks, bakery, and food to accompany you and your loved ones during all of your festivities. 
DRINKS
BROWN SUGAR ROSEMARY LATTE

Around the islands this holiday season? Come in to try out Brown Sugar Rosemary Latte, an annual classic made with our signature house-made syrup. A  woodsy rosemary and rich brown sugar combine to create the perfect cozy latte for this season.


MELE KALIKIMAKA BLEND
This Holiday season, we've sourced complimentary coffees from all over the world, blending them together to make this richly spiced and fruit-forward coffee profile. We believe that when you plant and care for coffee with love, it truly pours through. Blending coffees together in this way is like baking your favorite holiday dessert. We've taken a bit from each region below to highlight the true flavors of the holiday season. 
10% Kona Estate - Plum, Raisin & Milk Chocolate 
10% Brazil Ecoagricola - Chocolate Nuttiness
25% Colombia La Predera - Strawberry, Sweet Grape, & Mulled Wine
25% Guatemala Monja Blanca - Tootsie Roll & Dark Berries
30% Mexico Altura - Brown Baking Spices
MELE KALIKIMATCHA

Back by popular demand! Since you all were on our nice list this year, refresh with our famous blended matcha bevy. This delight is made with Firepot Tea's signature Amai Matcha blended with a festive peppermint syrup to bring some brightness this holiday season. 
EGGNOG LATTE
'Tis the season for cozy creamy spiced goodness. Come by any of our cafes on Oahu to try our new Eggnog Latte this year. Sugar and spice and everything nice! 
BAKERY
HAZELNUT VANILLA MOUSSE BAR

A crispy feuilletine praline crunch base topped with local Laie vanilla and sweet potato mousse.


CRANBERRY ORANGE SCONE

A classic scone with dried cranberries and topped with tart orange glaze.


Gluten Free Chocolate Raspberry Torte


Rich, gluten free, chocolate torte cake with raspberry filling.


MATCHA OREO CHEESECAKE


Matcha cheesecake with an Oreo cookie crust, topped with a matcha mirror glaze, citrusy yuzu cream, and Oreo pieces to garnish.
FOOD
BREAKFAST BOWL

Our new breakfast addition is a delicious combination of roasted sweet potatoes, ripe red peppers, kale, crispy bacon, sunny-side up eggs, avocado, creamy garlic kimchi mayo, sesame seeds, and scallions.
WINTER SALAD

A seasonal salad made with greens, earthy beets, feta cheese crumbles, dried mango, fried marcona almonds, and topped with a sweet honey orange thyme vinaigrette. 
CHICKEN HUMMUS WRAP

A local twist on a Mediterranean classic - perfectly seasoned lemon garlic roasted chicken, macadamia nut hummus, crisp cucumbers, baby mizuna leaves, red onions, and fresh tomatoes.


ROAST BEEF SANDWICH

Thick cuts of beef, freshly roasted in house on a whole grain ciabatta bun, topped with creamy garlic kimchi mayo, grilled onions, Swiss cheese, and baby mustard greens.