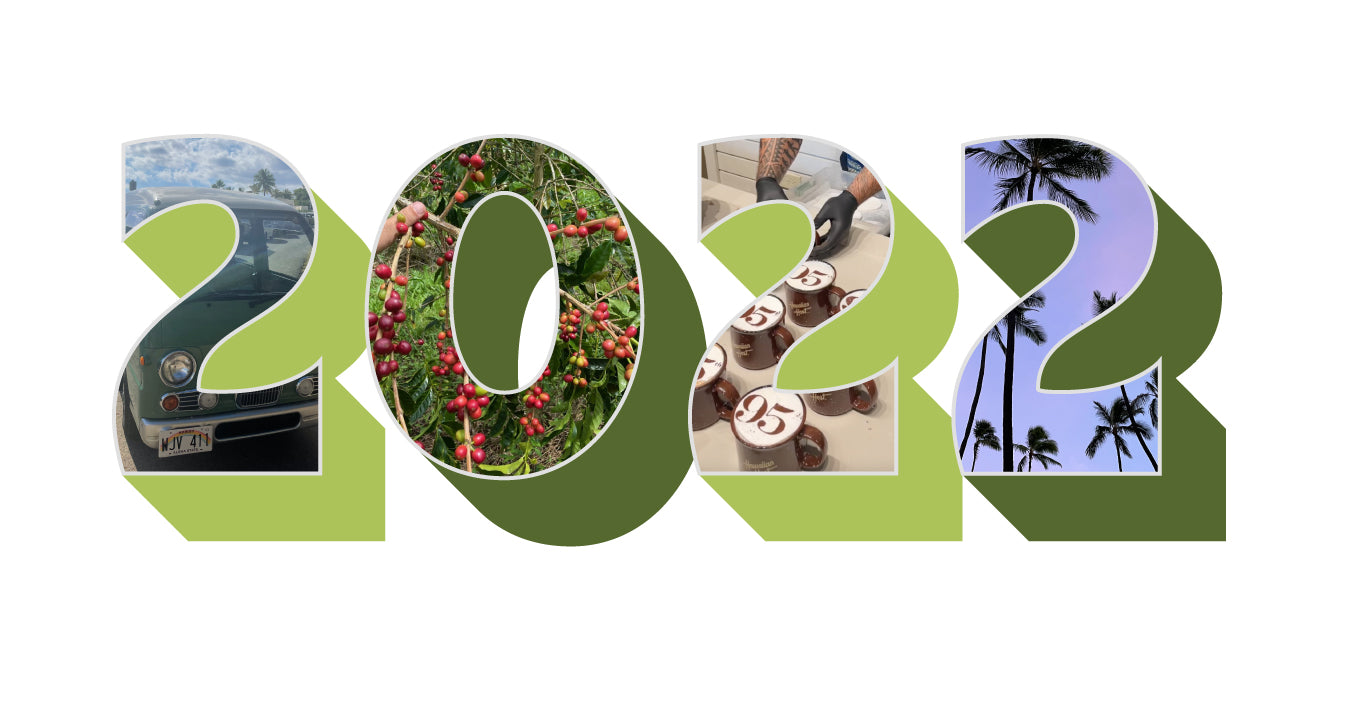 As this year comes to an end, we are filled with gratitude as we look back at 2022. Brewing with Aloha since 1992, this year was our 30th anniversary and we want to savor every moment of goodness the year brought us.
Below are a few highlights from the year! 
January
Fully reopened and ready to serve
We kicked off the year wanting to be intentional about getting back to basics. We started with growing our team and recruiting the best of the best. Everyone at Honolulu Coffee makes a commitment to continually improve, both professionally and personally. After rebuilding our team, we are proud to say that we are fully reopened at all of our locations now and looking forward to expanding our company even further in the coming year. Look out Kauai!
Interested in joining the team?
February
The Sue Brew Van
Sue brew comes to town! For those of you that live on Oahu you may already be familiar with our micro-van cutie. For those of you that missed our initial roll out, read more about her introduction to the scene here on Oahu. We have lovingly named her "Sue" since she is a Subaru! We love to cruise around town either making coffee deliveries to the warehouse or toting our employees to Surf Club. Fun is a core value at Honolulu Coffee and we love to incorporate it into everything we do. When we aren't Brewing with Aloha, we are gathering together to surf and spread the spirit of aloha on the water.
Did you know that your local baristas are just out there shredding it up?
March
La'ie Vanilla family
La'ie Vanilla and the Vida Mia
La'ie Vanilla company grows some of the most premium vanilla we have been able to get our hands on. We are big about connecting with local farmers and makers and committed to supporting the communities that we serve. Since we utilize so much vanilla in our baked goods and vanilla bean lattes, we found it only natural to partner up with the best our island has to offer. To learn more about this incredible family, check out their story here.
The Vida Mia

We love to find ways to bring our partners together and in March we had the perfect opportunity to do so. La'ie Vanlla met The Vida Mia, Hawaii's favorite tropical cruiser! The whole vanilla family came out one morning for a Morning Coffee Cruise on the Vida Mia. Brynn Rovito, the owner of the vessel, was so gracious to host the whole family (especially because the vanilla bean scone is a fan favorite on the Morning Coffee Cruise). We love the opportunity to blend together people's passions with aloha. It makes for truly remarkable memories. 
Live Music Saturdays
Later that month we launched Live Music Saturdays at the Experience Center. Kapono is one of the most talented and mesmerizing Ukulele musicians our island has to offer. He is extremely humble and recently has been listed as one of  the "Hot 100 unsigned live performing artists in the country" by Music Connection Magazine. These weekly sessions are still going strong, so come by and check him out! The ever-talented and charming Kapono Wong impresses our guests every Saturday afternoon at the Experience Center. We invite you to come for the musical vibes and stay for the freshly roasted coffee and housemade pastries!
April
Heading to the SCA
Seeking out knowledge is a core principle of Honolulu Coffee — continual improvement is a core value after all! In April, our team was able to gain some new coffee knowledge by heading over to Boston for the Specialty Coffee Association EXPO conference.
The Honolulu Coffee and Kaldi's Coffee teams at SCA
While on the mainland, we figured we would stop and check out our sister company, Kaldi's Coffee to help further our pursuit of continual improvement. We love to continue to seek out industry knowledge. Humility is a core value, so we embrace that as we stay committed to learning something new everyday. 
The Kaldi's Coffee Roastery in St. Louis, MO
May
A Custom Surfboard!
This past May we were finally able to showcase the custom beauty that we worked with Brent Clems on, designing a one-of-a-kind surfboard. Together we crafted this custom surfboard that now hangs proudly at the Moana Surfrider Hotel location for all of Waikiki to admire. Brent is a true master of his craft, meticulously shaping each board he makes with such deep aloha. He passionately helped us design every special detail of this board. The board includes wallpaper from our renovations, and fabric from our first employee shirts as well as our hand painted slogan, "Brewed with Aloha"
Kuilei Cliffs
The Surf community is a powerful one. We are fully committed to being a part of it and to seek out ways to be stewards of the land. This lead us to the good work that our friends at Kuilei Cliffs are doing. Don is one of our most regular customers of many years and he was the tie that brought our efforts together. As soon as we learned of their mission to restore the environmental ecosystem and expand the indigenous vegetation to the land surrounding the cliffs at historic Diamond Head, we were quick to grab our gardening gloves and race over. Since then, we always find ways to come out and help support whether that be planting ti leaves or fueling the volunteers with much needed coffee. Check them out every Saturday at 8:00am!
Volunteering at Kuilei Cliffs
June
Surf's Up Summer!
Surfs Up Summer. Well, on the South Shore anyways! We kicked off the summer by launching the most delightful blend as a limited time offer. We design everything from the packaging of the bags to the thoughtfully blended and freshly roasted coffee inside. This past summer we showcased coffees from all different islands. We thought this would be a unique way to feature island-grown coffee regions. We highlighted coffees from Sumatra, Papua New Guinea and of course, Kona coffee from our farm on the slopes of Mauna Loa. We hope to do more coffees like this in the future, so stay tuned for what fun features we might have in store for 2023!
July 
Coffee & Cacao Festival
Our friend, Shawn Steinman at Grok Coffee helped to organize this year's Coffee & Cacao Festival at the Kakaako Farmers Market at Ward. We had a blast participating and meeting with the local community while  sampling out loads of cold brew and pour overs.
At the Farmers Market we met with Aline Steiner, founder of Koko Kai Yogurt. We were truly blown away by her story of creating this locally made product. Her probiotic rich, dairy free locally made coconut yogurt was something that seemed too good to be true. We acted quickly to add her products into our shops in Waikiki to offer the people something truly delectable in the mornings on the go. If you haven't tried it, you must!
August
USCC Brewers Cup Preliminary & Roaster Preliminary Competition
This year we fervently sought to ignite true passion for the specialty coffee industry. Our team did NOT disappoint as they showed up in full force at this year's USCC Brewers Cup Preliminary & Roaster Preliminary Competition. Our homegrown talents taking home some wins in the Brewer's cup competition preliminaries were Rebekah Tucker in third place, Melia Hardin in second place and Thomas Keisling placing first. Thomas also placed second in the Roaster's preliminaries. 

The competition team 
Kualoa Ranch
Living through our ethos, we value our relationship with the 'āina, translating in Hawaiian to "land" but carrying a much deeper significance. We strive to motivate our team to learn more about the land in which we rely on as well as the impactful ways we can be better stewards of the land. We got connected with our friends at Kualoa Ranch by donating burlap bags to them for ground cover and decided to get a group of our team together to get knee deep in the lo'i patch. Lo'i is an irrigated terrace, traditionally planted with Taro. We set out to weed, clearing out space for this symbolic plant to thrive. We all felt embraced with the spirit of aloha as the mud squished between our toes. Since we are a group of co-workers, we quickly found ourselves making efficiencies and trying to find the best way to weed the fastest. This is for sure going to be an annual tradition for our team. Nothing is more satisfying that seeing how much you can accomplish together in such a tangible way. 
September
Dawn Patrol!
Did you know that we have four menu changes per year? Did you know that we have a talented culinary team that can dream up just about anything your hearts desire, featuring local flavors and locally grown ingredients? Did you know that we design and manufacture all of our own customer merchandise as well? Well… now you know! 
This past September we had one of our most successful launches ever for new merchandise. We launched our Dawn Patrol series with the softest t-shirts and drinking vessels we have created yet! We wanted to tie together the idea that we are fueled by our own brews in the morning. We wake up early each morning as a team and great the day at Dawn to either hit the ocean and surf or open up the shops to brew the freshest roasted coffee in Waikiki. Either way, were fueled by our own supply as we seek out each day. How about you?
October
Taking part at Hawaiian Host
Hawaiian Host, Food & Wine, and a Latte Art Throwdown
October rolled around and we had the chance to help our friends at Hawaiian Host celebrate their 95th anniversary at the Bishop museum. This memorable occasion was so fun as we laughed the whole way through. We made a hot chocolate made from their decadent chocolate with a housemade oversized marshmallow ontop. It was too much fun! 
Every fall we gear up for supporting our friends at Hawaii Food & Wine festival and this year we showed up in full force. This year we committed to showing up at Events on Big Island, Maui and on Oahu. This is such a wonderful way to get the community connected to supporting local food systems in Hawaii.
While on Maui we were even able to help volunteer through the HFWF organization at Kipuka Olowalu to learn about ways to embrace our cultural identity while finding a deeper understanding of our environmental connectivity.  

Volunteering at Olowalu
This month, we also hosted a Latte Art Throwdown for all Honolulu Coffee cafes and local cafes. We live-streamed the whole thing, drank a lot of lattes, and had a lot of fun bringing baristas and specters together with the love of coffee!
November 
Did we mention we love partnering with our local community? Well here is some more on that note! We met with the Ahn family that founded Niu Soft Serve parlor and we fell in love with their passion as a family fun company as well as their spectacular dairy free coconut soft serve. We use their product as a base and add our potent cold brew concentrate for some of the best soft serve on island. It is sure to knock your socks off and keep you caffeinated. If you haven't tried it, come on down to the Experience Center location where this product is exclusively being sold. 
Want to know about some other fun things that happen exclusively at the Experience Center? Well, this year we officially relaunched our public roasting tours. This is such an amazing education experience where you get to tour through our facility and learn about the history of coffee, all different kinds of brew methods, as well as roast a batch of coffee alongside our coffee roasters on our vintage Probat coffee roaster. If you have not yet come down to check this out, you must grab a friend and sign up for your next trip over. We are currently offering these tours every Wednesday at 11:00am. Stay tuned in 2023 for more educational public classes! 
December 
What is a better way to end a year than with forward motion and expansion? Well this December we are proud to announce that we have a new franchise location opened in Guam. We had two of our best team members spend time sharing their passion for coffee and ambassadors of Aloha with our partners in Guam. We are so proud of their accomplishments and truly cannot wait to see what the future holds. 
A Year of Community and Coffee
2022 was a year for the books. We grew stronger together, we rooted down more firmly and stood alongside those that share the same passions. We continue to grow and develop our team to lead with the spirit of aloha while embracing each and every one that come unto any one of our cafes. We love to be a part of this special community and look forward to serving you every morning.
A hui hou kākou!