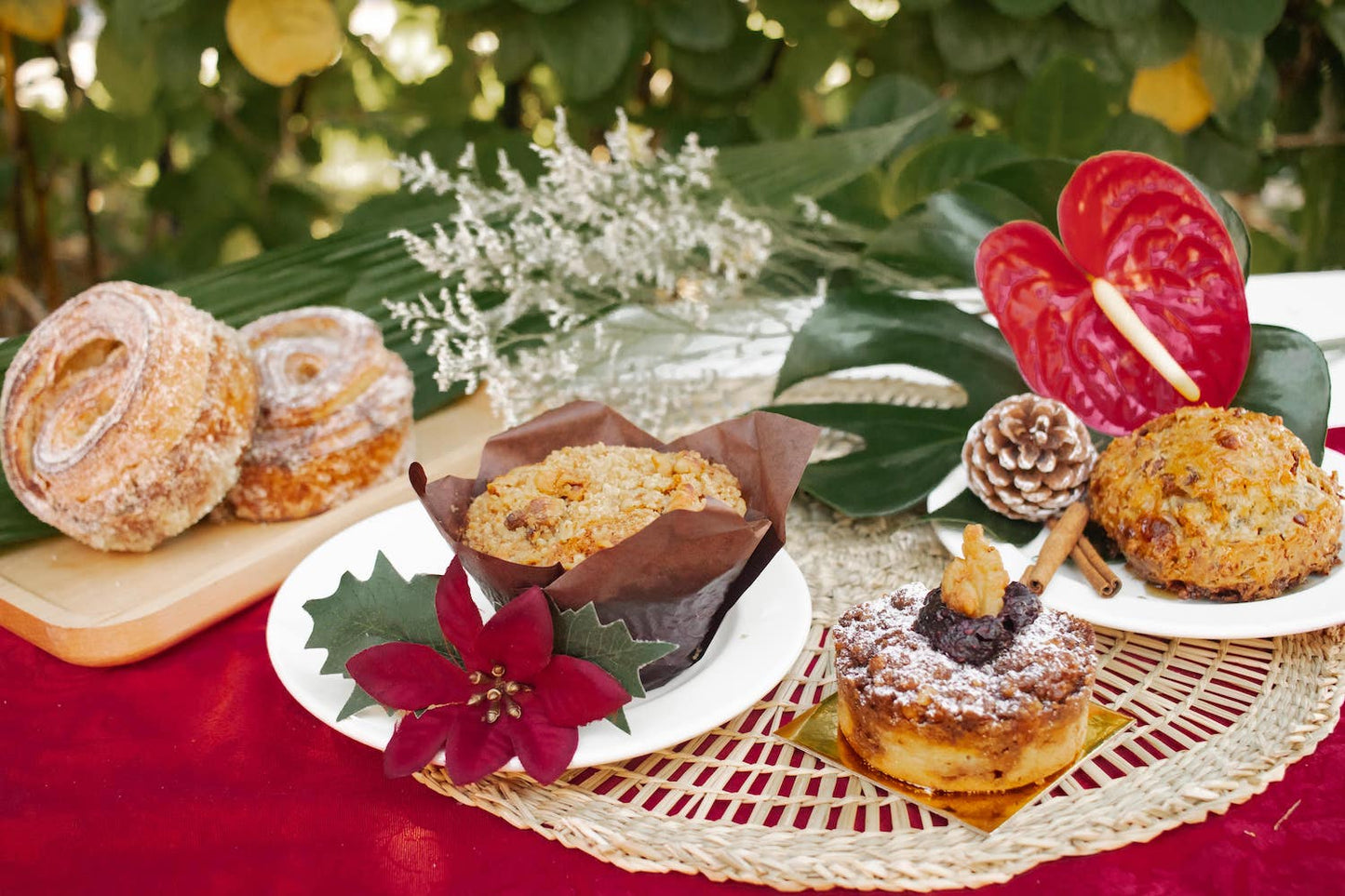 Tropical winters in Hawai'i call for high surf and 70 degree sweater weather—but our favorite part is sharing 'ono (delicious) eats and treats with our 'Ohana during the holidays. While stopping by our cafes this holiday season, we hope you can feel the coziness and joy with our NEW seasonal menu. Read below for our twist on our festive favorites:


White Chocolate Peppermint Latte
Sip into the season with our White Chocolate Peppermint Latte––a classic blend of creamy, minty, and just the right touch of sweetness.


Gingerbread Latte
Indulge yourself in sugar, spice, and everything nice! Try our new Gingerbread Latte with hints of brown sugar, clove, all-spice, and cinnamon.


Spiced Maple Bacon Scone
This Spiced Maple Bacon Scone is our new sweet and savory treat –– featuring a glaze infused with maple, aromatic rosemary, and a touch of cinnamon.


Cinnamon Orange Morning Bun
Discover the delight of our Cinnamon Orange Morning Bun's flaky exterior and orange cinnamon interior. Pair with a latte and savor the moment of Hawaiian winter mornings!


White Chocolate Cranberry Muffin
Bring a touch of holiday magic to your island escape with our White Chocolate Cranberry Muffin. Tart cranberries, sweet white chocolate, and the nutty goodness of a crunchy walnut streusel.


Turkey Cheddar Handpie
Embrace the coziness with our Turkey Cheddar Handpie –– a savory sensation that's warm, cheesy, and filled with our housemade white BBQ sauce. (Back by popular demand and o
ne of our team's favorites!)


Chipotle BBQ Pulled Pork Sandwich
Enjoy the perfect balance of smoky, spicy, and sweet with our Chipotle BBQ Pulled Pork Sandwich! Our pork is slowly smoked with our housemade coffee BBQ rub then served with cheddar cheese, pickled onion, and coleslaw on a taro bun.


Winter Salad
A salad with all the flavors of the season! Bacon, chickpeas, dried cranberries, roasted pecans, local greens, and avocado served with a holiday-spiced maple vinaigrette.


Harvest Turkey Sandwich
Our very own house-brined and slow-roasted turkey breast, cranberry mango relish, herbed mayo, swiss cheese, and keiki kale served on a whole wheat ciabatta. This is everything you want to experience throughout the holiday season.


Hazelnut Panna Cotta
Indulge in this luscious creation inspired by the iconic Ferrero Rocher chocolate. Each spoonful of this Hazelnut Panna Cotta is pure bliss, an ode to the perfect blend of hazelnuts and dark chocolate.


Walnut Coffee Cake
Fall in love with winter with our Walnut Coffee Cake––layered with a streusel on the inside and topped with berry compote, candied walnut, and a sprinkle of powdered sugar snow!


LIKE WHAT YOU SEE?