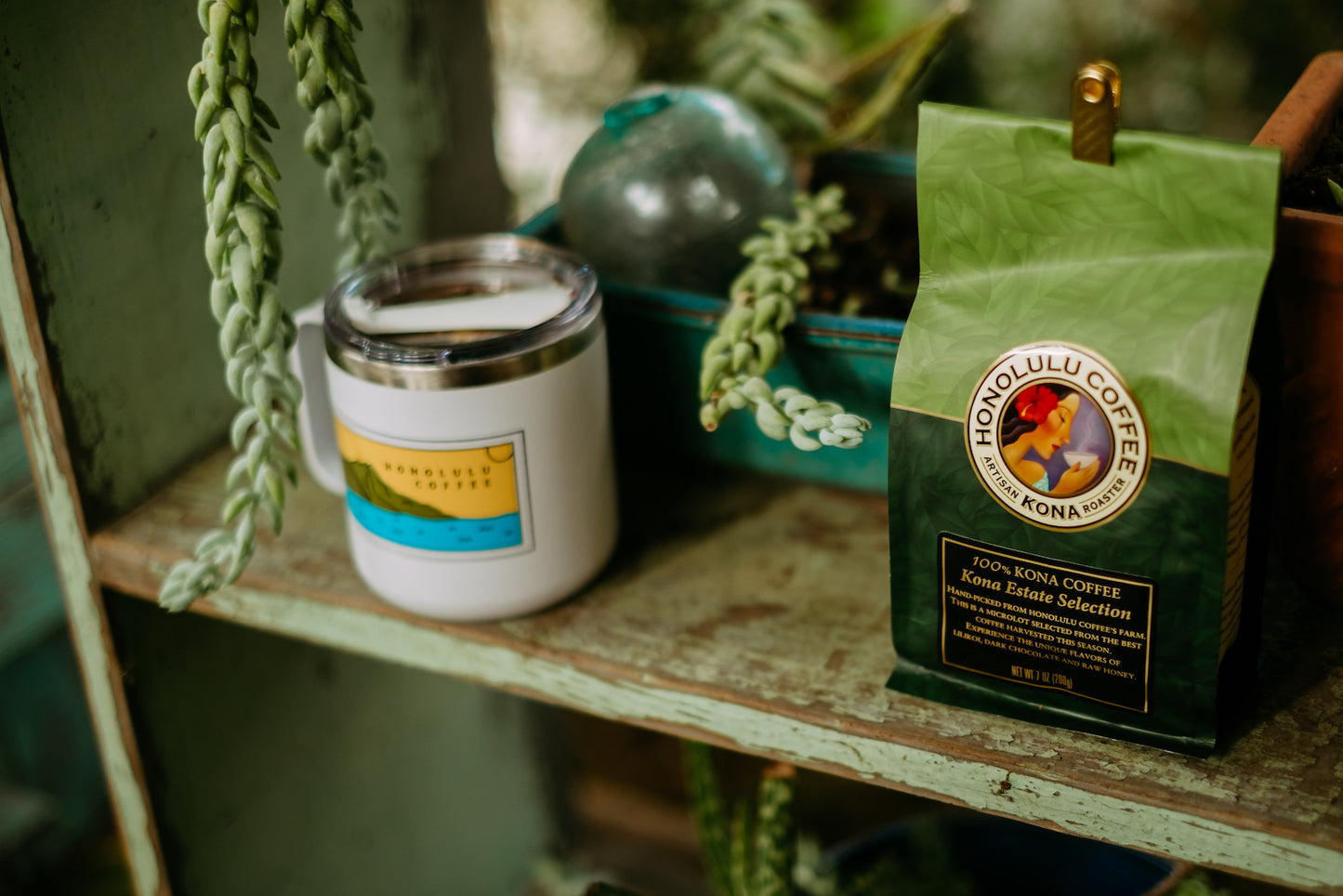 Kona coffee, one of the most prized coffee varieties in the world, doesn't come easy. This is especially true for us - we grow it, we process it, we transport it to our cafes and we roast it fresh for you.
But what's the best way to make sure you always have a bag of Kona coming?
Last updated: 1/17/2023
HONOLULU COFFEE RECURRING SUBSCRIPTIONS
Our coffee subscription program is as easy as:
Select the 100% Kona coffee or coffee blend that you want (like Lokahi, Makahiki, or Kona Blend)

Select how often you want it (defaults to 1 thru 8 weeks, but can be changed to anything you like after you start your subscription)

We'll cover the rest! Your order is auto-generated from then on and you'll receive notifications for charges and upcoming deliveries
Easy right? Kona coffee or your favorite blend comes to you when you need it and you can cancel anytime. It's like reliving your Hawaiian experience all the time (or if you live in Hawaii, making your Hawaiian mornings even better). 
TIPS AND TRICKS
But just setting up a subscription is only scratching the surface of what our program can do. Every subscription comes with a Customer Portal where you can make all sorts of changes and modifications, but there are also some really cool things that you can do to tailor your experience to your coffee needs.
Do most things on your phone? You can also make adjustments to your order via SMS!
Read our Subscriber FAQ here
Want a little variety in your Kona?
Set up two subscriptions, one for Peaberry and the other for Extra Fancy. Have them rotate from week to week (or however often you want it) so that two weeks out of the month you get the extra rarity of Peaberry, and the other two weeks you get the extra fanciness of… Extra Fancy! Or, sprinkle in some Lokahi blend. Either way, this is a great way to spice things up without having to do a thing. 

Check out our Kona Buying Guide

for more details on our Kona selection

 

CHECK OUT OUR KONA COFFEE BUYING GUIDE:
Want a bag a little less / more often?
Our recurring subscription program defaults to 1 thru 8 weeks, but once you sign up you can change this to anything you like. You can make it every 5 weeks, or 2 months, or whatever you wish! And you can modify the duration at any time should your needs or usage change. Example: you drink a lot of hot coffee the cold months, but move to cold brew cans in the summer. 

If you need any extra help with this, we can help! Email us at customerservice@honolulucoffee.com
Need to skip a delivery because you'll be out of town?
Totally doable in your portal! There's an option for "skip next delivery", and your subscription will pick up on the next scheduled date. 
Ran out of coffee faster than you expected?
Go to your account and change your next charge date to the following day. We'll get it roasted and shipped to you as fast as we can. 
Other things you can do with a recurring coffee subscription:
Change your billing and shipping address

Cancel at any time

Adjust the grind that you receive on blends

Make changes to your order via text message
We've seen a lot of creativity with our customers already and we love seeing all the ways that our customers make their coffee fit their life. 
SAVE 10% ON YOUR COFFEE
As if all of that wasn't enough, all recurring pure Kona coffee subscriptions receive 10% off.
FROM US TO YOU
Since 1993 it has been our goal to grow and roast the best Kona coffee in the world. We were thrilled to offer our subscriptions because it makes doing the latter that much easier. Thank you for your support and your consideration of our subscription program - we wouldn't be here without the support of our loyal guests and customers, and we want to be there for you, too.
Mahalo! 
-
Related Content: