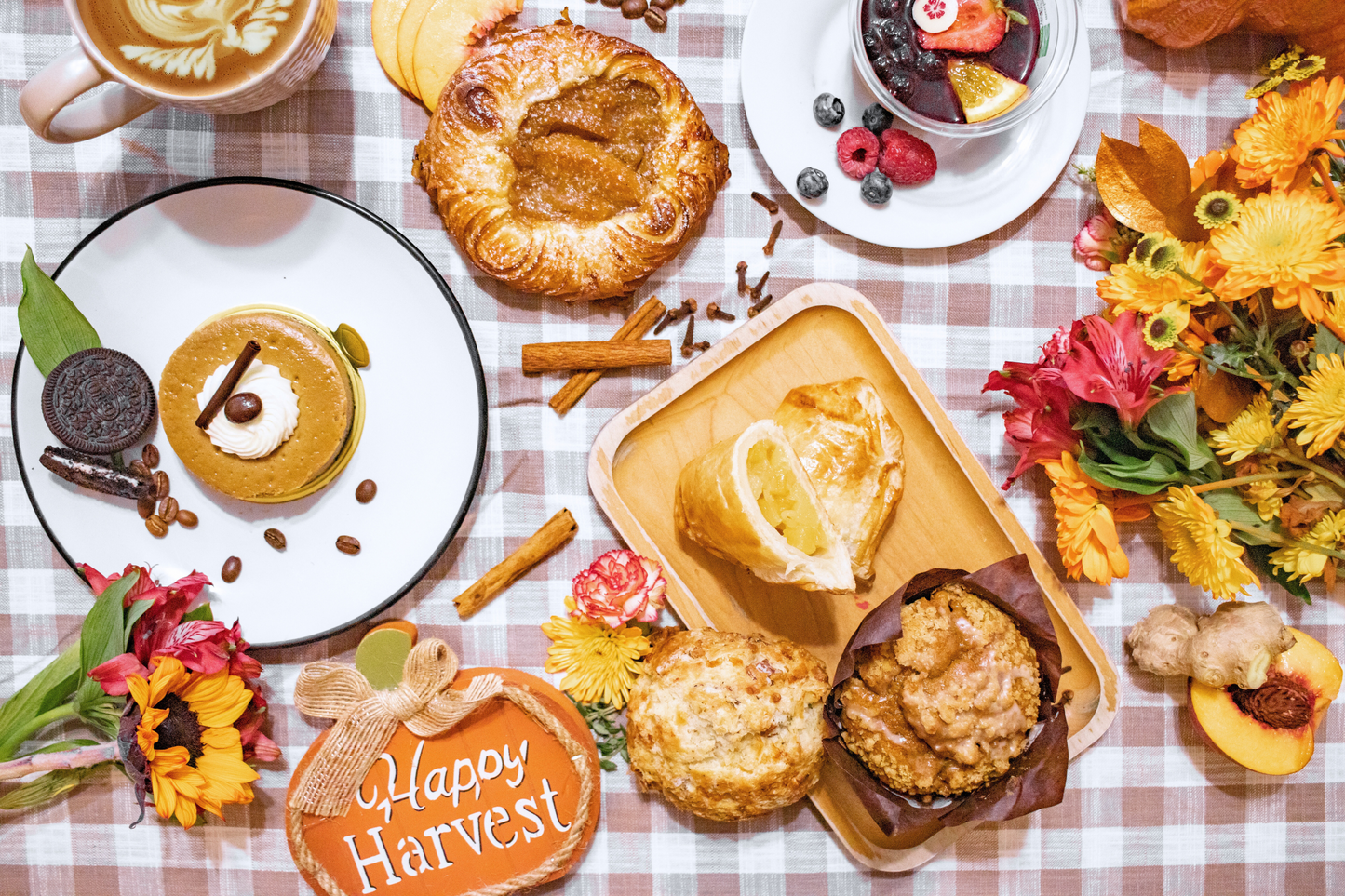 Fall is often seen as a time of transition; the "in-between" that takes us from the heat of August to the chill of the holidays. (Yes, we still feel cold in Hawaii, it's all about perspective). In that time of transition, why not celebrate the two extremes? Why not bring together the fresh fruits of summer with the spiced coziness of winter? That was truly the inspiration for us as we came into this fall season. Enjoy the fresh spiced, fruity, herbal treats as much as we do. Soak up the last vestiges of summer and prepare to get cozy in the most Hawaiian way. 
 
Salted Toffee Mocha
Inspired by our favorite house-made Double Chocolate Salted Toffee Cookie, this latte combines chocolate, caramel, and Hawaiian sea salt in the most luxurious way. 
 
Candied Ginger Latte
Much like the sweet-warm feeling of a piece of candied ginger, this latte combines local Hawaiian honey with ginger; truly a taste of fall.


Harvest Turkey Sandwich
Our very own house-brined and slow-roasted turkey breast, cranberry mango relish, herbed mayo, swiss cheese, and keiki kale served on a whole wheat ciabatta. This is everything you want to experience throughout the fall season. 
 
Pumpkin Pecan Chai Muffin
Back again! An indulgent pumpkin muffin combined with crunchy pecans and topped with a spiced chai glaze.


Maple Bacon Scone
The perfect savory scone. Bacon, gruyere, and fragrant thyme come together in a beautiful salty-smooth balance that is then topped off with a maple glaze. 
 
Coffee Cheesecake
Coffee Cheesecake. Oreo Crust. Chocolate covered espresso bean. Need I say more? 
 
Peach Ginger Danish
Peaches and the spiced warmth of ginger and nutmeg lay on top of a lovely cream cheese filling. 


Earl Grey Panna Cotta 
This dairy free delight has the comfortable feel of a warm cup of tea. Panna Cotta infused with Earl Grey tea and topped with a berry compote with orange zest to enhance the notes of bergamot from the tea. 
 
Pineapple Handpie
The comfort of a warm handpie filled with a sweet and tart pineapple. A classic cozy treat, Hawaiian style. 

LIKE WHAT YOU SEE?