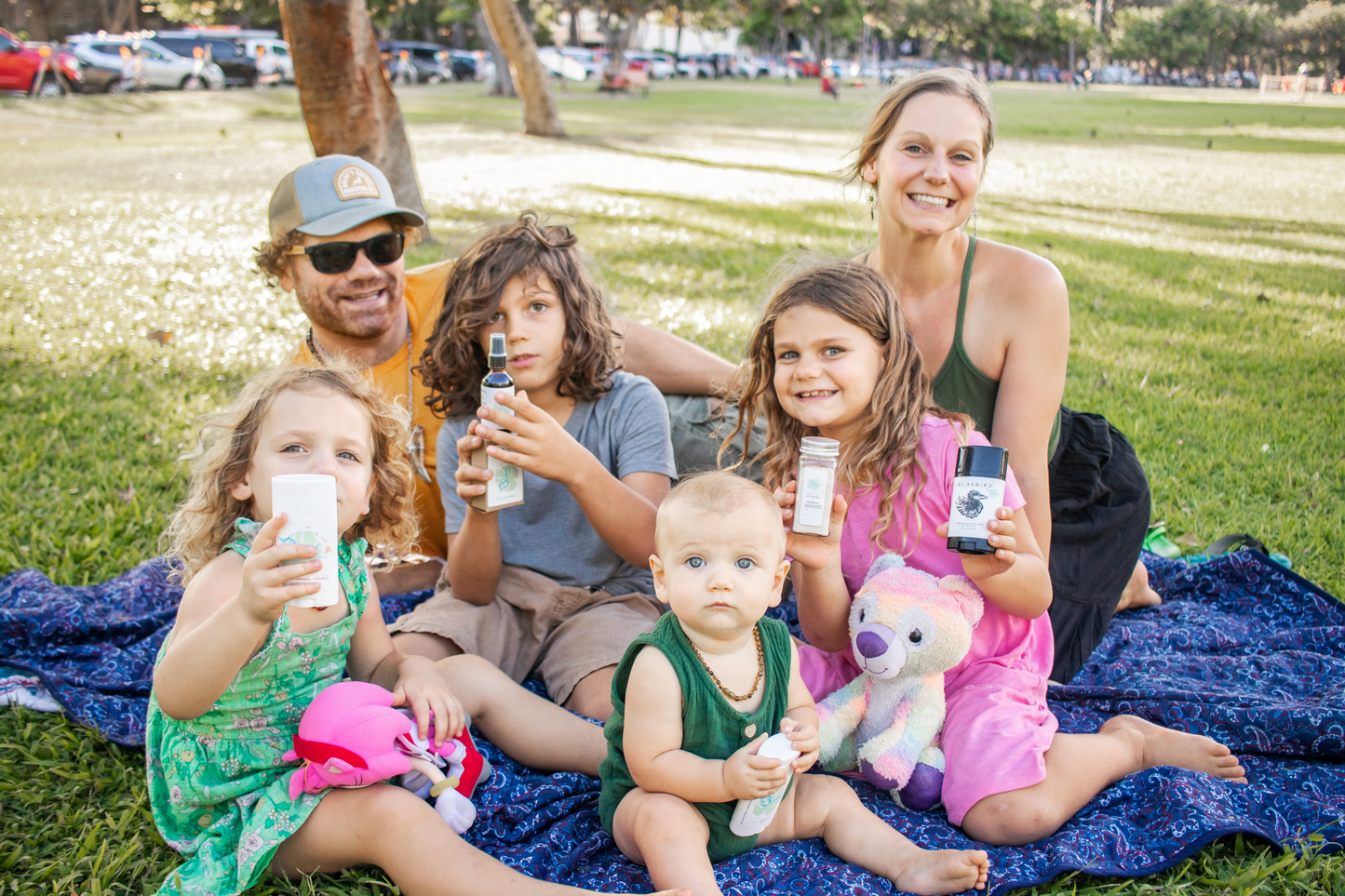 Here at Honolulu Coffee, one of our core values is passion—it's what ignites the fire within, fuels the determination to overcome life's setbacks, and enhances the ability to connect with others to inspire them to chase their dreams.

One of our long-time employees, Josh Nault, had worked for Kaldi's Coffee in Missouri (one of our sister companies) for many years—then the opportunity came up for the Nault family to come to Hawai'i for vacation. After hanging out with the leadership team at the Experience Center, Josh got a job with Honolulu Coffee and 90 days later, both Josh and his wife Abigail agreed the big move would give a more simple, beautiful, and healthier life for them and their kids. Who knew that this decision would lead his wife Abigail to embark on her journey of being a mom entrepreneur?

Abigail is the mastermind behind Blubird Naturals—an all natural and organic beauty line focused on adapting simple changes for a healthier life. From deodorant, to dry shampoos, and more ... she is continually bettering quality, sourcing, and knowledge of all things natural.

Picture this. A talk story with Abigail in the middle of Kapiolani Park, with a yoga class on one side, a soccer team practice on the other—and four kids running around with Josh attempting to stop them from distracting Mom. Chaos? Not one bit. Read more on how our Brand Manager, Chasity Real, got to witness the beauty of it all:

Chasity (C): What is Blubird Naturals?
Abigail (A): I started Blubird Naturals about 10 years ago. I just wanted to make natural deodorant for myself. I just found out that I was pregnant and I was thinking about that kind of stuff, you know? Now I have four kids and I want to continue to be mindful of what I put in and on my body.

I was working at a wellness center in Missouri and I started to do some research about natural products, chemicals, and toxins. So I started trying to do some of those switches in my house and I just started making it for myself—I was just experimenting in the kitchen. At then my mom caught on and my sisters and then friends. Before I knew it, I was selling at little farmers' markets.

When we moved here [in Hawai'i], we did a big rebrand, but our big thing was to make natural products easy to find. Make it simple, make it affordable, have that good feeling about yourself. I now sell deodorants for men and women, dry shampoos, bar soaps, and bug spray.

Blubird Naturals products
C: Amazing! How was your business dreamed up and rooted in the Midwest? Why did you include the name Blubird?
A: For one, we came from Missouri—the bluebird was our state bird. But more importantly, my grandmother. She used to have these glass bluebirds near our kitchen window and called them her bluebirds of happiness. I always just wanted to do this in honor of all the hard work she did during World War II. She was in the factories doing her part being so dedicated. I always admired her for that. Sometimes women don't get noticed for all the work they do—so the Blubird name was to honor her.

Abigail's grandmother during World War II, the meaning behind the Blubird Naturals name 
C: What a beautiful tribute to your grandmother! What makes your natural beauty products different from the others in the market?
A: All of my ingredients are natural. No chemicals, no processing. I would say different because a lot of natural products still have that long list in the back. You know, they seem "natural". A lot of places use preservatives, chemicals, and other means to save costs, but I really stick to being natural. My products are 95% organic, with the exception of baking soda. I use things like coconut oil, beeswax, arrowroot powder, and diatomaceous earth (a fossilized remains of a type of phytoplankton called diatoms). Some of the deodorant has essential oils and I like to use shea butter, dried hibiscus, peppermint leaves, and lavender.

I'm trying to source more and more locally now that we're here—it's actually harder than I thought. Really expensive. Right now I'm working on trying to find local beeswax. I have also been buying from a couple of different companies at farmers' markets which is great since I do everything in smaller batches. Right now, just a lot of experimenting and trying to find the best.

C: Do you have any advice for anyone who is switching to more natural products? What was the journey like for you?
A: I was in high school when I started being paranoid about smelling bad and I constantly carried deodorant with me. When I switched, I was honestly terrified. It probably takes about three weeks to really push out the toxins out of your body. For example, with the deodorant, companies usually have aluminum in it. When my friend switched, she was wearing white t-shirts and this light grey substance would stick on the shirt since it builds up in sweat glands. Sweating is natural and good for detoxing, and when you switch to natural products, a lot of people end up sweating less.

For dry shampoos that a lot of people use, the aerosol can cause a lot of damage. It's harmful to breath in and can even cause lung cancer, Alzheimer's, and Parkinson's disease. A lot of the key ingredients in my dry shampoo helps with hair growth and strengthening. You can even get more time in between washes by switching to natural.

C: Do you have a favorite product?
A: I love the deodorant. I'm kind of a deodorant nerd so I'm always trying to come up with a new deodorant. I started the men's line called Blakbird, where we use actual cedarwood to infuse. Josh tried it three years ago and uses it all the time now.

Blakbird: the first Blubird Naturals men's deodorant 
C: Makes sense, deodorant is the product that started it all! Can you go through some of the manufacturing processes that you do for your products?
A: Other than womens' and mens' deodorants, I also have dry shampoo and bug sprays.

Deodorants take about two days and are made in a big double boiler. I've got two big pots and I do all the oils/wet ingredients first. Then I add all the dry ingredients. If I'm doing a scent infusion, the infusion starts two days before—like a crockpot on low heat. Then I do a double straining process with the wet ingredients, everything gets poured with the dry ingredients, and I let the mixture sit and dry.

For dry shampoos, it's one of the easier and faster processes. Since there aren't any liquids in it, it takes less than a day to prepare. I have different dry shampoos for different color hairs—I use yellow clay for blondes, Moroccan red clay for reds, and cocoa powder for brunettes.

My bug sprays take about three weeks per batch since I infuse dried peppermint, lavender, and vanilla beans in mason jars. They also require more straining so that the little spray caps don't get clogged.

C: Do you have any sustainable and eco-friendly practices?
A: I tried to research more and more ways to be sustainable—and it seems a bit more easier here since more people are on-board with it being really important. Like when I first got here, restaurants were banning plastic bags and started carrying bamboo straws. Which is pretty cool. Even when I visit the mainland, I don't even care to take plastic bags anymore.

I like to do the same and stay away from polyester (plastic). Cotton, linens, and glass is my go-to. I also use compostable envelopes for shipping and cardboard packaging. With the dry shampoos, we offer a special discount for those that order refills—it's $5 LESS to order the refill from the original price. People can order the glass container once and I'll send the refill in a paper envelope.
Blubird Naturals dry shampoo for blonde, red, and brunette hair
C: Where can people purchase your products and start their healing journey?
A: My products are currently being sold on my website and Honolulu Coffee's Experience Center and Prince Waikiki locations. I still do wholesale at a few places in the mainland like the Wellness Center in Missouri, a small shop in Ohio, and another with an esthetician on the east coast. It's nice being spread out through retail and wholesale customers because since I make small batches, if I run out, it's easy to direct them to those places.

C: How do you balance being a mom entrepreneur?
A: I would love to say that I have a schedule where I say this is my work time, and this is my family time. And then I have to allocate school time since I home school all of the kids. Now when I get some time or even a moment, I seize it. I get stuff done.
Now when I get some time or even a moment, I seize it. I get stuff done.
The kids would be napping or it'd be movie time, and that's when I'll go work on the weekends. You know, Josh can take care of them at this time and I tell him I just need two hours. Once a month, I take a full week to just restock everything, so I have the other weeks to just focus on selling.

But I think it makes it easier to say that I love my businesses. So when I have free time, I like to spend time on this business because it's relaxing—it's me time. I get to help people in a way and it's a good cause; I feel like I'm increasing their life quality and their health.
Mahalo Abi!
If you'd like to support Abi and join her on her wellness journey with Blubird Naturals, follow her on Instagram or visit her website at blubirdnaturals.com!