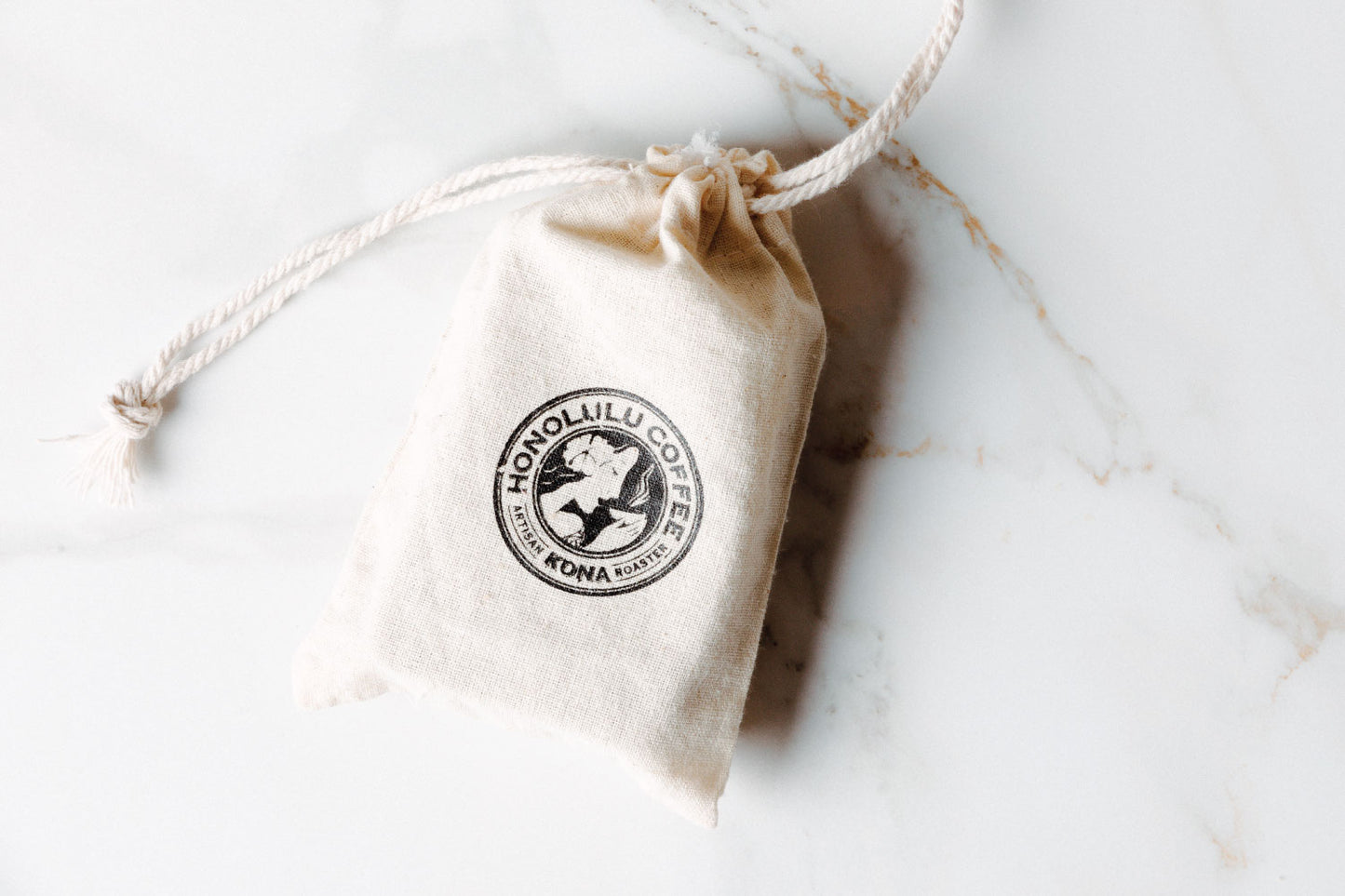 Honolulu Coffee is committed to improving the sustainability of our Hawaii specialty coffee industry, and at large. To that end, Honolulu Coffee has partnered with locally owned and operated companies of Hawaii to reduce, reuse, and recycle waste. Additionally, we're always looking for creative ways and pushing the boundaries to reuse and recycle our own products.
Kope Soap

- Hand-made, vegan, cruelty-free soap made from upcycled Kona coffee grounds from our stores. The spent (brewed) coffee grounds that Kope periodically collects from our Experience Center are able to take the place of plastic microbeads, which are harmful to the environment. Kope Soap offers a variety of different scented exfoliating soap bars! You can find

Kope Soap on our website

 or in select stores. The upcycling of coffee grounds allows for a fuller, more sustainable vision of Hawaiian Kona coffee, from bean to cup to bar!
Opala Foods

- Oyster mushrooms grown from local food scraps and recycled Kona coffee grounds. Opala Foods picks up spent coffee grounds from our Experience Center every Friday, and uses them to grow mushrooms! They then sell fresh mushrooms, mushroom jerky, and fruit-at-home grow kits! Sustainable food grown from Kona coffee grounds: upcycling doesn't get much better than this. Check out Opala Foods' offerings at: 

Kaka'ako on Saturday from 8 am - noon 

KCC on Saturday from 7 am - 11 am
@HAWAIIECOSTRAWS

&

http://hawaiiecoproducts.com/

- A grassroots initiative to stop the waste caused by single use plastic straws, Hawaii Eco Products has committed itself to reducing our reliance on plastic straws that end up in our oceans and hurting our wildlife. They've given away over 25,000 free metal straws, fully funded by donations. We offer the metal straws at all of our Oahu stores, and you can donate to Hawaii Eco Products in our cafes.
Cascara Hot Tea

- This brand new drink at our cafes is made from the actual fruit of the coffee cherry. While this is normally "pulped" and discarded, it is also traditionally drunk in many coffee-producing countries from Yemen to Ethiopia to El Salvador. Cascara tea is a creative and delicious method of

reusing

the coffee cherry fruit that would otherwise be wasted. Look out for more Cascara Hot Tea news coming soon! You can order your drink now at a Honolulu Coffee cafe on our 

mobile ordering page

.
Did you know? 
We are happy to provide spent Kona coffee grounds or chaff upon request. Some of our team members take home both spent grounds and chaff (the fluffy parchment skins of the coffee beans that come off during roasting) to add to their compost in their gardens!
-
READ NEXT:
HAND BREW BLOG: KALITA & FRENCH PRESS
Related Content: